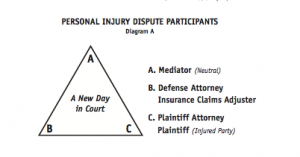 A excerpt from  A New Day in Court by John Miles
Many readers of this primer are already familiar with mediation. Perhaps you are a mediator. Perhaps you have mediated at Miles Mediation and could write this primer better than I. Should you resemble either of the above, please feel free to skip to the
Even the most cursory consideration of A New Day in Court provides the reader with one insight about the author. I am an unabashed movie fan. In the movie Philadelphia, Denzel Wash- ington says, "Explain it like I'm a fifth grader."
This primer explains the nuts and bolts of mediation.
What?
Mediation is a process that enables parties to resolve disputes. Customarily used in legal disputes, mediation is a cost- effective alternative to trial by jury. In recent years, mediation has become the preferred method for resolving lawsuits.
Following are some of the identifying characteristics of typical mediation:
Mediation is a voluntary process. Resolution requires that both parties agree to the terms of the settlement.
A mediator facilitates the process, guiding adversaries through a discussion of the issues in an effort to find areas of agree- ment.
While mediators are not required to have a law degree, most mediators are attorneys. Legal disputes require that mediators have a knowledge of the law and an understanding of jury tendencies.
Arbitration, on the other hand, is a process where parties contractually agree to submit their case to an arbitrator or panel of arbitrators—to be bound by the arbitrator's decision.