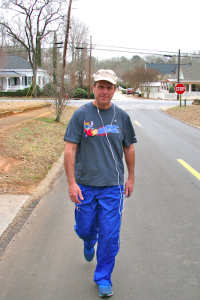 By Jamie Miles
After a hard day facilitating a just resolution, mediator John Miles often enjoys strenuous physical exertion. Walking is Miles' preferred way to wind down. But this isn't your grandmother's leisurely stroll around the block. No sir. John clips along Madison, Georgia's scenic byways as fast or faster than many joggers his age.
He jokes that walkers don't get any respect from runners and that his mission is to free walkers from their chains. Miles recently completed the Atlanta Hot Chocolate 15K (9.3 miles). He finished the distance in a little over two hours and enjoyed a stack of pancakes with a side of bacon afterwards.
Okay. He didn't but surely he thought about it. What follows is a few scintillating excerpts from an interview with John, my husband — the walker, in between five mile loops from our house on a Saturday morning.
You are the big 5-0, what have you done athletically in the past?
First of all, I'm 51. In high school, I played football, basketball and ran track – sprints.
I hated long distance running.
I played one year of college football and after that . . . I never ran again. Until I started dating you, then I ran because you ran everywhere.
But I always hated running. First, because I associated it with organized athletics and I can't ever seem to get a rhythm. I go too fast or too slowly.
Then as I got older, I got fatter. 
To combat that pesky mini inner tube that tends to gravitate around midlife midsections, Miles started running again using the Jeff Galloway run/walk method. After running a few half marathons and completing some triathlons using the run/walk method, my dear hubby admitted he still hated to run.