Bianca Motley Broom, Esq.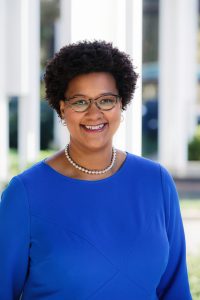 Bianca Motley Broom is a full-time mediator and arbitrator and currently serves as a part-time judge in the Magistrate Court of Fulton County. Prior to her appointment, she was a Senior Trial Attorney at Allstate Insurance Company for nearly five years, defending the company's insured in personal injury cases. Before joining Allstate, she was an associate at Hawkins Parnell Thackston & Young, practicing toxic tort litigation. She has been an attorney since 2003 and started her career as an Assistant Prosecuting Attorney in Cuyahoga County, Ohio.
Bianca is a graduate of Duke University, having earned her Bachelor of Arts in Public Policy Studies and Religion. She received her Juris Doctorate from Washington University School of Law in 2003 and is studying for her Master of Business Administration degree from Lake Forest Graduate School of Management (LFGSM). She also holds certificates in Change Management and Management Analytics from LFGSM and is a registered civil mediator and arbitrator in Georgia.
Community service is a cornerstone of Bianca's life. She currently volunteers with Children's Healthcare of Atlanta and The Main Street Academy, where she is the immediate past president of the board. She recently participated in the United Way's South Fulton Community Building Institute and is a member of the Atlanta Bar Association, Gate City Bar Association, Georgia Association for Women Lawyers, National Bar Association, South Fulton Bar Association, Georgia Association of Black Women Attorneys, and the Stonewall Bar Association of Georgia.
Bianca and her husband, Michael Broom, reside in Historic College Park with their dogs and chickens. In her spare time, she enjoys pottery, reading and traveling.
Contact Info
Schedule an Appointment