Gino Brogdon, Jr., Esq.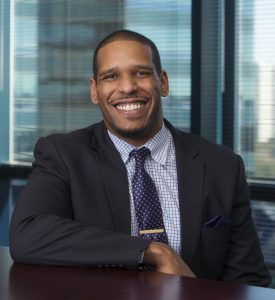 Gino is an Atlanta native who graduated from Morehouse College and received his Juris Doctor from the University of Georgia, School of Law. Gino's diverse professional experiences include service to the U.S. Attorney's Office in the Major Crimes division, Athens-Clarke County Public Defender's Office, Clerk for the Honorable Steve Jones and The Barnes Law Group. Most recently, Gino served as an associate at The Cochran Firm Atlanta. At the Cochran Firm, Gino's practice focused on a variety of legal issues ranging from automobile accidents to mass tort litigation and civil rights litigation. His trial experience includes handling automobile cases with unique insurance issues and complex medical malpractice lawsuits.
Currently, Gino manages his firm, The Brogdon Firm, LLC. Gino represents both businesses in contractual disputes and plaintiffs in personal and catastrophic injury cases. His passion for justice leads him to try cases all over the State of Georgia. Soon after his success with The Brogdon Firm, LLC, he was inducted into The National Black Lawyers' Top 100 Lawyers. In 2016, Gino was recognized by The National Trial Lawyers Association's list of  Top 40 under 40 in Georgia. Gino serves the legal community via multiple organizations, including the executive boards for Gate City Bar Association and the Atlanta Bar Association's Litigation section and Membership section. He is also a member of the Atlanta Citizen's Review Board, which reviews citizen complaints against Atlanta Police Department officers. This gives him a unique insight into civil rights cases and other officer involved premises liability cases. In his free time, Gino is an avid volunteer with several youth outreach organizations and enjoys helping others reach their health goals through personal training. Gino was also a member of 2016 LEAD Atlanta class and Georgia Trial Lawyers Association's LEAD Program Class of 2016.
Contact Info
Schedule an Appointment