Jack G. Slover Jr., Esq.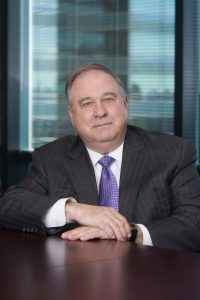 Jack has been practicing law since 1975. He attended undergraduate school at the University of Georgia and Law School at The Cumberland School of Law of Samford University.
Upon completion of his active duty service in the Army, he joined the firm of Twitty and Twitty in Camilla Georgia. He became a partner in 1980 and the firm became Twitty and Slover. While in Camilla, Jack practiced in all areas of litigation including; domestic, probate, worker's compensation, civil and criminal. He also served as County Attorney for Mitchell County and represented not only individuals but such clients as the Planters and Citizens Bank, Bank of Camilla, Production Credit Association, Farmers Home Administration, Georgia Florida Alabama Peanut Association, Royal Ford, Mitchell County Development Authority, Mitchell County Housing Authority, Morey Farms, Willingham Farms and many others.
In the mid 1980's, Jack had the opportunity to return to the Atlanta area. In 1988, he joined the firm of Sullivan, Hall, Booth and Smith as a partner. In 1996, the firm reconfigured and became Hall, Booth, Smith and Slover.
After returning to Atlanta, Jack also served as a part-time Magistrate Judge in Fulton County for 16 years. During that time he also had the opportunity to sit Pro Hac Vice, as Judge, in various Fulton County State Court proceedings.
In 2012, Jack, along with Mike Prieto, Jon Marigliano, Bill Holbert and Dan Prieto, formed Slover, Prieto, Marigliano & Holbert, LLC a personal injury firm, specializing in Medical Malpractice and Nursing Home abuse as well as all other areas of personal injury litigation.
Jack has been a member of the Defense Research Institute and U.S. Law as well as the Georgia Trial Lawyers Association and American Association for Justice. He is a member of the American Board of Trial Advocates and is a Master of the Bleckley Inn of Court. He is an active member of the Atlanta Bar and the State Bar of Georgia. He is and has been a frequent speaker at Continuing Legal Education and Law related seminars.
During his 41 years of practice Jack has handled numerous real estate transactions, corporate matters, and administrative procedures in addition to his trial work. He has tried over 350 cases to verdict in both the state and federal forums. The last 28 years his concentration has been in professional negligence and catastrophic injury cases.
Contact Info
Schedule an Appointment