Hon. Keegan Federal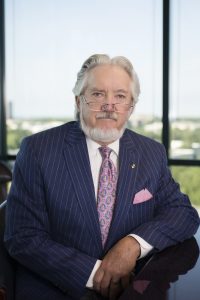 A member of the Bar since 1966, Keegan Federal is a seasoned practitioner who has focused his practice on litigation and dispute resolution.  He is an experienced courtroom lawyer and has managed and resolved complex legal controversies involving a wide variety of issues. He has represented parties in a significant number of high-profile disputes involving catastrophic injury and wrongful death claims (with an emphasis on brain and spinal injury cases), premises liability and private security issues, contract actions and business disputes, employment discrimination and harassment cases, consumer fraud claims, First Amendment constitutional and civil rights disputes, divorce and family law matters, and more.
In 1976, Keegan Federal was elected Judge of the Superior Court of DeKalb County.  During his eight years on the bench, Judge Federal initiated the use of alternative methods for the resolution of cases in his Court, and chaired the Atlanta Dispute Resolution Center's Board of Directors.  The judgeship experience provided him with an in-depth knowledge of the challenges faced by lawyers and their clients, and the risks inherent in litigation, enabling him to be extremely effective in early case assessment, procedural management, case valuation, and ultimate fair disposition.  Judge Federal's knowledge and experience is a valuable advantage for the positive resolution of routine-to-complex legal matters.
Judge Federal has a thirty-year history as a mediator and arbitrator, beginning when he left the bench in 1984 and continuing to the present day. He was one of the original group of three former judges who opened the Atlanta offices of the Judicial Arbitration and Mediation Service (JAMS), and he has continuously provided mediation and arbitration services to other lawyers, as an adjunct to his law practice. He is highly regarded among his peers as a practical, effective, and efficient neutral.  He frequently is retained by other lawyers and referred by judges to preside over disputes as an alternative to public litigation in the court system.  His experience is an asset in selecting the most efficient strategy for resolving the wide variety of disputes faced by parties in today's litigious environment, where attorneys' fees and litigation costs can significantly impact the resolution of a case. Judge Federal has lectured on mediation and arbitration best practices at Emory Law School, he is certified as a commercial arbitrator for the American Arbitration Association, a founding member of the Georgia Academy of Mediators and Arbitrators, and the National Academy of Distinguished Neutrals.
Credentials:
Graduated with honors from Emory University Law School
Attended Georgia State University Graduate School of Business Administration
Attended Loyola University undergraduate college and St. John's Seminary
Served as officer in U.S. Army (awarded the Bronze Star in Vietnam)
Co-authored the textbook "Legal Aspects of Private Security" (Anderson Publishing Co.), a textbook used at numerous colleges and universities
Founded and served as Editor-in-Chief of the monthly newsletter "Private Security Case Law Reporter", marketed nationally to professionals in the security industry
Chaired the Committee on Government Regulation of the Private Security Task Force as a member of the National Commission on Criminal Justice Standards and Goals
Founded and Chaired the Board of Directors of the Brain Injury Family Assistance Center in Georgia
Appointed to Advisory Board for State of Georgia Brain and Spinal Cord Injury Trust Fund Commission
Served on the Board of Directors of the Atlanta Bar Association, American Red Cross, USO Council of Georgia, Brain Injury Association of Georgia, Atlanta Mental Health Association, Outstanding Atlanta, the Atlanta Crime Commission, Leadership Atlanta, the National Center for Paralegal Training, the Georgia Hispanic Chamber of Commerce, the Hispanic Contractors Association
Member of The Carter Center's Board of Councilors, Business Executives for National Security, Atlanta Vietnam Veterans Business Association, Atlanta Lawyers Club, Old Warhorse Lawyers Club, American Bar Association, Georgia Trial Lawyers Association, State Bar of Georgia, Georgia Hispanic Bar Association, American Trial Lawyers Association, the Kiwanis Club of Atlanta, the Georgia Hispanic Chamber of Commerce and the Latin American Chamber of Commerce
Served as Chairman of the Advisory Board of the Atlanta Justice Center for Dispute Resolution, national chairman of the Courts and Community Committee of the Judicial Administration Division for the American Bar Association, State Chairman of the Georgia Vietnam Veterans Leadership Program, state delegate to the National Conference of State Trial Judges, faculty advisor at the National Judicial College, Chairman of the Latino Advisory Committee for the Atlanta District Council of the Boy Scouts of America
Adjunct Professor of Litigation at Emory University School of Law
Elected by peers as an "Atlanta Super Lawyer" every year since its inception and member of "Best Lawyers in America"
Contact Info
Schedule an Appointment