Coastal Georgia Expansion Update: Team Leaders Now Available
Tue, Feb 23rd, 2016 | by Miles Mediation and Arbitration | Mediation Events | Social Share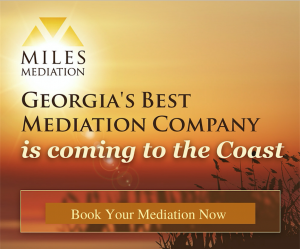 Miles Team Leaders Available on the Georgia Coast
Effective immediately, John Miles and Team Leaders Susan Forsling and Joe Murphey are available for mediations and arbitrations in Savannah, Brunswick and all other Coastal Georgia areas. Patricia Stone is also available in these locations.
Our Coastal Georgia mediation team will come to you until our location is available in the next few weeks. And, in the interim, you can still expect a gourmet lunch during your mediation or arbitration.
To book John Miles, Patricia Stone, Susan Forsling, or Joe Murphey, click here.