Craig Avery Elevated to Senior Neutral in Atlanta
Wed, Feb 2nd, 2022 | by Kimber Bond | Press Releases | Social Share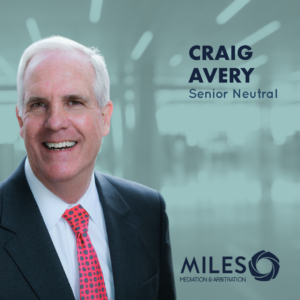 ATLANTA, FEBRUARY 2, 2022— Miles Mediation & Arbitration is proud to announce the promotion of mediator and arbitrator Craig Avery to Senior Neutral, the highest rank at the alternative dispute resolution (ADR) firm. Not only has Craig earned widespread respect throughout his career but he developed a full-time mediation practice faster than any other neutral at Miles.
"Craig is a tremendously talented and effective mediator who has worked hard to earn the distinction of senior neutral," said Miles CEO, John Miles. "I am so excited for Craig and look forward to seeing him continue to thrive."
Craig Avery is a registered neutral with over 25 years of litigation experience. Acting as sole trial counsel and often opposing some of the best personal injury lawyers in Georgia, Craig successfully handled over 400 jury trials in Superior and State Courts in 38 Georgia counties, most of which involved soft tissue injuries, serious injuries, and wrongful deaths. He has also evaluated and resolved thousands of cases through negotiated settlements and mediations.
Craig's experience gained as a trial lawyer brings to the table invaluable insight that has been essential to the success of his mediation practice. He is a veteran defense and plaintiff's attorney with significant experience handling a variety of personal injury cases, including car crashes, tractor-trailer wrecks, motorcycle accidents, and premises liability cases involving slip-and-falls, and dog bites. Craig is "AV" rated by his peers, the top designation for ethics and legal ability available by Martindale-Hubbell. In addition, he has been named a "Super Lawyer" from 2011 to the present, signifying that he is in the top 5% of lawyers in Georgia.
ABOUT MILES MEDIATION & ARBITRATION
Miles Mediation & Arbitration is shaping the future of alternative dispute resolution (ADR) with our comprehensive professional services model that combines the expertise of our highly skilled and diverse panel of neutrals combined with an unparalleled level of client support in order to guide and empower parties to fair, timely and cost-effective resolution regardless of case size, specialization or complexity. For more information, please call 888-305-3553.