Getting to Know Chris Annunziata
Mon, Jun 9th, 2014 | by Miles Mediation and Arbitration | ADR Resources, Get to Know our Neutrals | Social Share
At Miles Mediation, we believe in creating a culture around family. When you walk in our doors, we want you to feel welcomed like you're family and make yourself at home. So come on in, and get to know us better…

Why did you want to go into law?

I wish I had a grand, noble reason for choosing the law, but I don't. I almost took the Foreign Service Exam instead of the LSAT. I had two different professors, one a former lawyer, suggest law school and it seemed like the right path at the time. I'd say it worked out well.
What did you want to grow up to be when you were a kid?

I wanted to work in the auto industry, designing and engineering cars. I once wrote a letter to Enzo Ferrari asking what I would need to do to work for him. I received a nice response and a small token gift from the company but not from Mr. Ferrari directly. My childhood dream was actually the reason I ended up in Atlanta – to go to Tech and become a mechanical engineer. Go Jackets!
Where did you grow up?

I grew up in a small town in the hills of New Jersey called West Milford. Yes, there are hills in New Jersey. And fields and farms and chickens and horses and forests and lakes. It was a beautiful place to grow up. Idyllic and pastoral but still less than an hour's drive from the greatest city in the world. When I started high school, we moved to a more suburban town called Wayne, which looked more like Tony and Carmella's neighborhood on the Sopranos.
What does "family" mean to you?

If you grew up in an Italian-American household as I did, family means sitting around the table on a Sunday with a massive bowl of pasta, fresh bread, olive oil, Chianti for the adults, fruit and pastries for dessert, talking, laughing, arguing, and just enjoying each other's company. And in our culture, "family" is not limited to blood relatives, either. I can't count the number of people I called "aunt", "uncle" or "cousin", not one of whom shared any DNA with me, but who I treated just the same as those who did.
Why do you love your job?

I get an incredible sense of satisfaction from helping people solve their problems and find a resolution to an issue that has probably preoccupied them for months, if not years. You can often sense the relief as the parties come to realize that their case is over and they can move forward.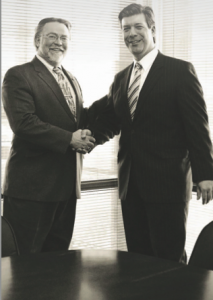 What is your favorite food?

Food. I like to cook and to eat and I'm not sure I have a single favorite food. That said, if you forced me to chose one thing, I could probably eat good pizza morning, noon and night, seven days a week. Could have something to do with the fact my grandmother owned a pizzeria.
What would you say your spirit animal is?

Well, I just took a quiz online and it says my spirit animal is a bear.
What is your favorite sport?

As a spectator? I love football. Both kinds. I am a die hard New York Giants fan and a Liverpool supporter. I can't wait for the World Cup and will lobby hard for the games to be on our lobby TV. As a participant, I race my bikes and golf when I can. I've been golfing since I was 10.
How do you unwind?

Unwind? It may sound strange but riding and racing my bike helps me unwind. That and a good beer or two.
What is your favorite thing about Atlanta?

I met my wife here.