Mediator Joe Murphey, Esq. Available in Savannah: October 2017
Mon, Jul 31st, 2017 | by Miles Mediation and Arbitration | Mediation Events | Social Share
Team Leader/Mediator Joe Murphey has mediated several high-stakes mediations in Savannah over the past year and is slated to mediate at our Coastal office for the entire month of October (2017). Joe's affinity for Savannah and the Georgia Coast is well-established, and we're excited for him to do what he loves in his favorite city. Joe will still be available in Atlanta and other areas of the state, as needed, so if there's a case in need of resolution outside of Savannah, you may call his Case Manager Jocelyn Parfaite (678-320-9118) or schedule online.
Joe recounts his love for Savannah and Coastal Georgia:
"It was a sunny summer day in 1989.  My fiancé (now wife) Susan and I were riding high.  We'd just graduated from Emory Law School, passed the bar, and, more importantly, had jobs.  This all happened in the span of May.  Before the grind of work commenced, we slipped away to Tybee Island for one last get away. And we fell in love.  Not just with each other (that was already a thing) but with Savannah and Tybee.  It was a fantastic week of fun and sun, and as we stood on the beach on our final night, watching the sun set, we vowed we'd come back some day to stay.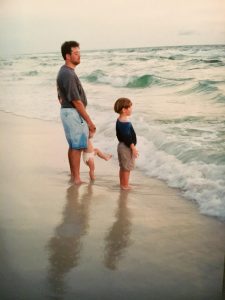 That was nearly 30 years ago, but Susan and I have never forgotten that week at Tybee, or our vow to return.  And we have returned.  Over the years we've rented houses and condos at the beach up and down the Georgia and Florida coasts — Atlantic side and Gulf — but we always end up returning to Tybee.  The place, and her people, are just the best. 
Work, and the work of raising kids, has kept us tied to the ATL for the past few decades, but the nest is now empty.  With more time on my hands, and a Miles Mediation office in Savannah, it's time to fulfill the vow to return.  Susan and I booked a rental on Tybee for the entire month of October.  If she finds she can run her law practice from the deck of a Tybee condo, and I can score a few Savannah mediations, we're one step closer to the goal…."   -Joe Murphey 
Click here to view Joe's bio and online calendar for easy scheduling.