Episode 4.7: Charlotte: Charles Ali Everage – A Deep Dive into Wrongful Death
Season 4 | Social Share
​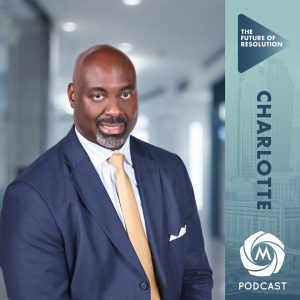 In this episode of The Future of Resolution Podcast, Miles mediator & arbitrator Steve Dunn sits down with civil litigator Charles Ali Everage to discuss the complexities of wrongful death cases, why he finds this work so rewarding, his thoughts on the future of the industry, and his advice to young attorneys entering the field.
Charles Ali Everage has more than 20 years of experience as a civil litigator. He is a partner at Hunter & Everage and is a passionate advocate for injured workers, the disabled applying for Social Security Disability benefits, and families experiencing a wrongful death. Originally from Montgomery, Alabama, he was admitted to practice in Alabama in 1998 before relocating to Charlotte in 2003.
Mr. Everage is a proud graduate of Florida A&M University in 1995 and graduated law school from Georgetown University Law in 1998. In addition to being licensed in Alabama and North Carolina, Mr. Everage is admitted to practice in all three federal courts in North Carolina and Alabama, the U.S. District Court for the Northern District of Ohio, the Fourth Circuit Court of Appeals and the Eleventh Circuit Court of Appeals.
For this episode, we did a "practice area deep dive" on wrongful death. We discussed:
The many hats a lawyer wears when working with grieving families
Complexities of wrongful death compared to personal injury
State-specific issues including estates and contributory negligence
How Charles approaches mediation and settlement
"Episode 4.7: Charlotte: Charles Ali Everage – A Deep Dive into Wrongful Death" is available on Apple Podcasts,  Spotify, Stitcher, and Google Podcasts. This podcast is the latest in a series of episodes that features thought leaders in the Southeast's legal community and beyond. Learn more about The Future of Resolution Podcast.