Debbie Tarkington, Esq. Joins Miles Mediation
Thu, Apr 28th, 2016 | by Miles Mediation and Arbitration | Mediation Events | Social Share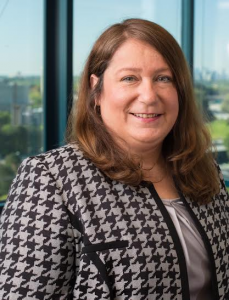 We're pleased to announce the addition of Debbie Tarkington, Esq. as the newest mediator at Miles and member of Team Murphey.
Debbie has over 22 years of litigation experience, and extensive trial experience in both auto and commercial litigation, having tried numerous cases all over Georgia.
She started her legal career as an associate with Greer, Klosik, Daugherty & Swank, where she handled both plaintiff's personal injury and insurance defense litigation. She has tried numerous cases as lead counsel on all of her plaintiff's personal injury litigation, and first and second chair on criminal defense, insurance defense, plaintiff's products liability and medical malpractice litigation.
Debbie practiced at Hammond, Carter and Watson – staff counsel for Nationwide Insurance Company  from 1999-2004.  At Nationwide, she handled complex litigation for auto and commercial cases.  From 2004-2016, she was the lead litigation attorney at the Law Office of James C. McLaughlin – staff counsel to Liberty Mutual Insurance Company.  She handled only the most complex medical, auto and commercial litigation cases.  Debbie also handled trial work and litigation in the areas of premises liability, automobile/truck accident cases, wrongful death, catastrophic injury and construction defect.  In the area of premises liability, Debbie's experience includes slip/trip and fall, negligent security and Dram Shop Act.
Debbie was designated counsel for several hotels/motels; construction companies; restaurants, including McDonald's, Hardees and Applebee's; and grocery stores such as Food Depot. Many of her other clients included apartment complexes, retail stores, janitorial companies, management companies and shopping centers.  Debbie was also the designated counsel for the fraud investigation unit at Liberty Mutual.
She is a graduate of Centre College in Danville, KY and Thomas M. Cooley Law School in Michigan.
To learn more about Debbie or to book her for your next mediation, click here.