A Recipe for Arbitration: Spotlight on Leah Albert
Wed, Apr 5th, 2023 | by Miles Mediation and Arbitration | Get to Know our Neutrals | Social Share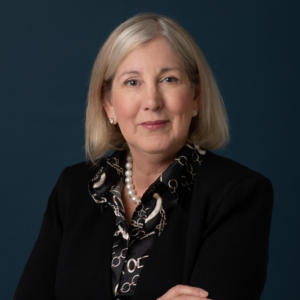 Talented chefs know that it takes more than quality ingredients to make a great meal – it takes rigorous planning and adherence to the order and sequence of a recipe. Arbitrator Leah Albert has created a recipe for success in her field — and published ground-breaking culinary recipes as well.
Leah's arbitration career began early in her legal career. While serving as the assistant general counsel for a company listed on the New York Stock Exchange, she was nominated to serve on the NYSE's arbitration roster and began arbitrating cases. Her interest in arbitration, however, had been sparked years prior to that.
"I went to Emory University, and first became interested in arbitration in college," says Leah. "I met my mentor, Beverly Shaffer then. She was an economics professor [and arbitrator] who connected micro and macro-economics to the real world and brought labor and employment economics to life."  After college, Leah attended Washington University in St. Louis for law school, and wound up staying in the area after graduation.
Today, as a full-time arbitrator, she serves on many United-States-based and international arbitration tribunals. Her areas of experience include commercial disputes, tech and tech services, franchising, licensing and intellectual property, banking, finance, financial services, trusts and trust companies and insurance as well as more current issues relating to biometric privacy.
A Level Playing Field
Leah finds arbitration intellectually and emotionally rewarding. "I love providing a level playing field for all of the litigants and affording each party an equal chance to have a fair and full hearing," says Leah. "I really work on making sure all parties have a full and fair opportunity to have their cases fully developed and heard. This was certainly a challenge during COVID, but I strove to accommodate parties who had cancer, or autoimmune disorders, or who came down with COVID."
She also enjoys working with counsel during the onset of the case to put in place measures that will expedite the case and reduce the need for evidentiary disputes and objections during the hearing. She encourages an early exchange of exhibits; a jointly prepared and stipulated to admissibility joint exhibit list; and discussing alternative means of presenting evidence such as by affidavit, declaration, or report – or allowing Zoom or other meeting platforms to be used to save the parties and witnesses the cost of travel.
A Creative Bent and An Artistic Eye
When she's not arbitrating cases, Leah has several hobbies she's passionate about. She's a collector of contemporary art, primarily structural objects, and functional art. "Structural objects and functional art can be fiber, metal, ceramics, earthenware, or glass," she says. "I recently acquired a Mundy Hepburn glass sculpture that is an organically shaped vessel containing various gasses; when electricity is introduced the vessel glows." She is also an avid reader and loves studying gemology.
Finally, Leah is also a nationally published gourmet cook whose work has been published by "Bon Appetit" magazine. "I'm probably more excited about baking – but appreciate that there's more variety and technical skill needed for cooking."
The Recipe for Effective Arbitration
"The process of conducting an arbitration and achieving a resolution should be like a good recipe. A recipe is a road map designed to guide the cook towards a consistent, reliable, explainable, and favorable result," says Leah. "A good recipe must have specificity. It must have a full and complete list of ingredients, exact measurements, simple, step-by-step directions listed in sequence, cooking time, cooking temperature and the number and size of servings the recipe will produce.
"Similarly, a good arbitrator must create a recipe, or establish a foundation that will see the litigants through the entire arbitration process," she continues. "It is the arbitrator's job to provide step-by-step directions, listed in sequence of the course of the arbitration. The arbitrator must be clear, concise and deliver instructions that are understandable and with which compliance is easy."
Finally, the arbitrator must also ensure that the litigants provide the necessary ingredients — the evidence — for the hearing. "The arbitrator can sift, weigh and digest the information provided so that she can produce a product or result that is free from frivolity, easily understood, sufficiently detailed, easily digestible (pun intended) and unassailably legally sound," says Leah.
Thoughtful precision makes a great baker. As Leah demonstrates, it makes for a skilled, talented arbitrator as well.
ABOUT MILES MEDIATION & ARBITRATION
Miles Mediation & Arbitration is shaping the alternative dispute resolution (ADR) industry with our comprehensive professional services model that combines the expertise of our highly skilled, diverse panel of neutral with an unparalleled level of client support to guide and empower parties to fair, timely, and cost-effective resolution regardless of case size, specialization, or complexity. For more information, please call 888-305-3553 or email support@milesadr.com.