John McCorvey, Jr. Joins Miles Mediation & Arbitration's Jacksonville Panel
Tue, Aug 24th, 2021 | by Miles Mediation and Arbitration | Press Releases | Social Share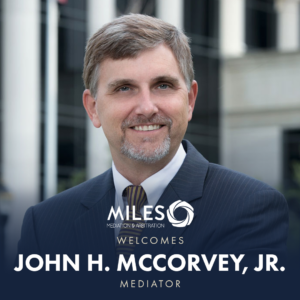 JACKSONVILLE, August 24, 2021 –  Miles Mediation & Arbitration, the largest ADR provider in the Southeast, is proud to announce the addition of John H. McCorvey, Jr. to its panel in Jacksonville, FL.  John is a Florida Supreme Court Certified Circuit Civil Mediator. He is also an accomplished litigation attorney with an extensive background in commercial and real estate litigation, including an emphasis on creditors' rights.
We are thrilled to have John join our Jacksonville panel," says John Miles, CEO of Miles Mediation & Arbitration. "We continue to look for opportunities to expand our panel of talented neutrals, including our new Jacksonville office. He is a well-respected litigator and has been mediating since 2008. He will be a great asset to our team."
John handles matters from routine to complex, for clients ranging from large institutions to individuals. Every client is important and he recognizes each client's unique needs. John is committed to building long-term relationships with his clients based on honesty, integrity and trust. His practice areas include: business disputes, creditors' rights, bankruptcy law, real estate litigation, garnishment, commercial collections, replevin, foreclosures, and asset recovery.
McCorvey stated, "I joined Miles Mediation & Arbitration to be on the "A" team of mediation and arbitration in Florida."
ABOUT MILES MEDIATION & ARBITRATION
Miles Mediation & Arbitration, headquartered in Atlanta, is an award-winning alternative dispute resolution (ADR) firm. The firm specializes in mediation, arbitration, special master, and all forms of dispute management and is known for its exceptional client service and reputation of delivering successful results. The firm handles all case sizes and types, including complex, multi-party disputes in areas of business, finance, construction, medical negligence, personal injury, wrongful death, trucking, real estate, insurance coverage, fiduciary, estate and probate, and premises liability. For more information, please call 888-305-3553.