A Love for Settling Cases: Spotlight on John Austin
Tue, Jan 10th, 2023 | by Miles Mediation and Arbitration | Get to Know our Neutrals | Social Share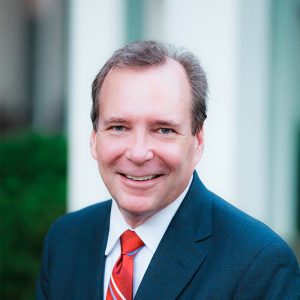 Consider John Austin one of the "Old Guard" of Miles Mediation & Arbitration. John joined Miles Mediation nearly a decade ago, balancing his law career with frequent mediations. Recently, however, he's decided to close his law practice and focus on a full-time mediation career.
"I went through the mediation class back in 2013 and joined Miles Mediation in 2014 when it only had the Atlanta office. John Miles graciously let me on the panel," John says with a laugh. "Since then, I've been mediating and practicing law, taking depositions, and trying cases. I've been doing that for 37 years and frankly, I'm tired of it. I love doing mediations and mediating full-time is something I've been considering for a while now because I love helping people to get their cases settled."
His longtime focus on litigation has well-prepared him for a full-time mediation career. John has conducted more than 75 jury trials in both state and federal courts, presented oral arguments in hundreds of cases at the trial court level, and presented oral arguments before the Georgia Supreme Court, the Georgia Court of Appeals, and the 11th Circuit Court of Appeals.
"I think the one thing I can bring to the table is a ton of experience," he says. He has concentrated his practice on motor carrier litigation and cases involving governmental entities. "I'd like to do more motor carrier cases as a mediator," he says. "When I was a 'baby' lawyer, the firm I worked for represented an insurance company that insured only motor carriers. I've continued to represent that company for the last 37 years and have handled over 1,000 motor carrier cases since then." This specialty requires in-depth knowledge of the federal motor carrier safety regulations and certain pitfalls unique to motor carrier cases as opposed to the issues involved a standard car wreck case.
John has also handled other personal injury and property casualty cases and hundreds of cases involving governmental entities, including Atlanta Public Schools; DeKalb County, Georgia; DeKalb County School District; and other school districts and governmental entities in the Atlanta area.
A Positive Yet Professional Approach
John has been married for 34 years, and he and his wife, Donna Jo, have two adult sons and one grandson who is two and a half. "We spend a lot of time with our family, and we built a house in the north Georgia mountains that we finished about a year ago, so we spend a lot of weekends up there," he says. John admits to being "horrible" at golf but loves to play it, especially after he gave up tennis years ago due to some knee issues but still loves to get outside to hike and jog. He's looking forward to balancing spending time outside with spending more time with his mediation clients.
"When you try a case and you get a great verdict, you feel good," he says. "I get that same feeling doing mediations. I try to make it a little more light-hearted and try to get people loosened up at the beginning to help them relax and not be so defensive … I get great satisfaction out of getting cases settled."
John recognizes that at its heart, mediation is about connecting with people, listening to them, and making them feel heard. His positive yet professional approach to his work is no doubt one of the reasons his mediation practice tripled in the past year and will continue to grow.
ABOUT MILES MEDIATION & ARBITRATION
Miles Mediation & Arbitration is shaping the alternative dispute resolution (ADR) industry with our comprehensive professional services model that combines the expertise of our highly skilled, diverse panel of neutrals with an unparalleled level of client support to guide and empower parties to fair, timely, and cost-effective resolution regardless of case size, specialization, or complexity. For more information, please call 888-305-3553 or email support@milesmediation.com.