You Made Miles Mediation #1 in Georgia
Mon, Sep 29th, 2014 | by Miles Mediation and Arbitration | ADR Resources, Get to Know our Neutrals | Social Share
By Jamie Miles
Sometimes a spouse says, "I told you so." And sometimes it's best she just thinks it.
Wait a second. Let me back up.
Recently, the Daily Report came out with their Best Of awards. My husband's company, Miles Mediation, took the top honors for mediation firms.
I'm very proud of him and all his hard work. And I took this occasion to remind him that he isn't the only mediation visionary in our marriage.
"Selected best mediation firm in Georgia, huh? I seem to remember hopping on this mediation train way before you."
"What?" my mediating husband asked with what could have been interpreted as a roll of the eye. "Is this when you are going to talk about law school?"
I plowed ahead. "Remember I told you about this Alternate Dispute Resolution course being taught by Judge Eldridge – how I signed up for it and you should too. That it was the next big thing in law."
No. My husband did not take my suggestion or take that law school course. Why waste a semester studying this thing called mediation if he was going to be a litigator?
So the other day — after I got my dig in, I let him buy me a cup of coffee and we chatted about the honor he received doing something he thought wasn't worth a semester of his time 25 years go.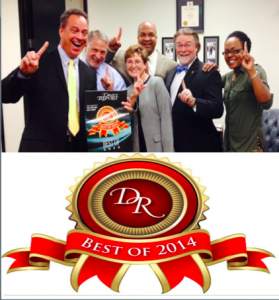 John's thoughts on winning the award:
"It took ten years of hard work to become an overnight success. This recognition means a lot because it's voted on by your peers. It's nice to have this acknowledgement from the bar."
"And you are right. In law school, I wanted to be a trial lawyer. To me, mediation was the opposite of that. It wasn't why I went to law school. I felt it was something put forth by the academics and judges but it had little worth in the real world."
Thoughts on the evolution of mediation:
"For years in the Atlanta market, the only option was Henning Mediation. Ed invented the idea of going to a neutral mediation site. Even today in most cities, mediators work part time and go on house calls. Ed conceived the mediation center concept: coffee, sandwich and cookies included.
You started the company in 1999. When did you notice things start to change for Miles Mediation?
"There were many stages and many transitions over the years. Things happened gradually till about the last 18 months. At the end of 2012, beginning of 2013, the company started to grow rapidly."
I remember we had a raffle at the ­­­­­­­­G.T.L.A. Auto Torts conference in 2007. Part of putting in your entry to win a golf bag was to answer a few questions. As a result of that survey, we learned that only 20 percent of attendees had even heard of Miles Mediation.
It took seven years, but I guess you we have better name recognition now.
We are in the hospitality business. That means providing the whole experience. We upgraded our food, our service and facility. That's what took us to the next level.
It's been an exciting 10 years. Look forward to see what the next decade holds."