Spotlight on Atlanta Neutral Leigh Wilco
Thu, Aug 4th, 2022 | by Miles Mediation and Arbitration | Get to Know our Neutrals | Social Share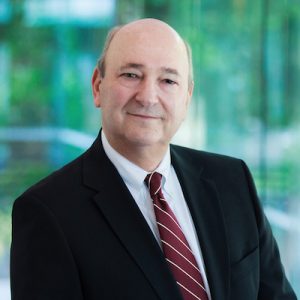 Leigh Wilco has presided over more than a hundred mediations over the course of his long legal career, but he is still excited about the process of helping parties find common ground to resolve their cases. Mediation affords Leigh a glimpse into the behind-the-scenes world of each dispute. As he explains, "One of the things I really like about mediations is trying to figure out what's motivating each side – the psychology of the parties. I want to discover the underlying issues, other than money. I also want to know the roadblocks to resolving the case. To me, those are the really interesting and fun aspects of each mediation."
After law school at the University of North Carolina, Leigh began his legal career handling insurance defense cases. When he joined the firm of Weissman Nowack Curry & Wilco he continued to do some personal injury work but also took on a number of matters in real estate litigation and business litigation, as well as serving as a court-appointed Special Master and as a Receiver.
Leigh values his ability to relieve the stress of his clients throughout the entire litigation process. He explains, "I like to reassure the client and answer their questions. I'm here to make them feel more comfortable with the process, and to take some of the pressure off."
Over the years he has handled a lot of cases, and so he has a lot of "war stories." One such case involved missing "cremains" [cremated remains of a human body] where the urn unexpectedly disappeared under some strange circumstances. He has also handled some interesting cases involving forged appraisals where he had to learn a lot about handwriting analysis.
In one memorable case, Leigh represented builders who had been taken advantage of by a developer. After years of discovery, the case went to trial. In the initial phase of the trial, the jury awarded his clients all of their damages and attorney's fees, and the case settled while the jury was out considering whether to award punitive damages.  His clients got all that they had sued for plus attorney's fees and some extra money for punitive damages. At the end, he asked them if they were happy with the settlement and they said yes, but when he asked them if it was worth it, they responded with a resounding no. "I tell that story to people in mediations because I've never had a client who enjoyed a trial. That's part of my motivation for doing mediations and ADR," Leigh explains, "It really is in the client's best interest to settle if they can."
Leigh has mediated many different kinds of cases. He estimates that maybe 40% were real-estate disputes, 30% were business/commercial cases and the rest were personal injury or insurance type cases. He has done a lot of "small business divorces" where partners in a company are "breaking up" which can be very emotional. "I think a strength of mine is my ability to listen and to analyze the pros and cons of the dispute from both sides. I spend a lot of time in mediations telling both sides the potential problems I think a jury or judge might have with their cases," Leigh notes.
The past couple of years Leigh's switched from working in the office to working from home. He admits that doing mediations by Zoom took some adjustment, but they worked better than he had anticipated. However, he prefers in-person mediations since Zoom gets tiresome after a while. He misses the interaction with his fellow lawyers – that's a casualty of working from home – but he attends a lot of Bar events which give him a chance to socialize with his peers.
When he is not practicing law or mediating disputes, Leigh stays busy. His grown children live nearby and he loves spending time with them and their significant others. He enjoys playing pickleball and is a big UNC sports fan. Leigh also likes to do handyman projects around his house and volunteer in his community. He appreciates seeing people help themselves, as they do in Habitat for Humanity, which allows low-income families to experience home ownership at a greatly reduced cost. Leigh has done a lot of "builds." The homeowners have to put in "sweat equity," which he feels helps them to feel more invested personally in the home.
Leigh lives in a two-career attorney home and he has been married for 43 years. His wife, attorney Carolyn Wood, runs a non-profit called Public Education Matters Georgia that promotes community support for public education. Together, they are vibrant members of the Atlanta legal community.
ABOUT MILES MEDIATION & ARBITRATION
Miles Mediation & Arbitration is shaping the alternative dispute resolution (ADR) industry with our comprehensive professional services model that combines the expertise of our highly skilled and diverse panel of neutrals combined with an unparalleled level of client support in order to guide and empower parties to fair, timely and cost-effective resolution regardless of case size, specialization or complexity. For more information, please call 888-305-3553.