Spotlight on Mediator Barry Howard
Thu, May 4th, 2023 | by Miles Mediation and Arbitration | Get to Know our Neutrals | Social Share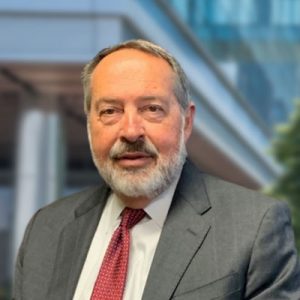 The more complex, the better. That seems to be a rule of thumb for Barry Howard, both in his professional and personal lives.
As a mediator, Barry focuses on complex construction litigation cases, as well as personal injury and professional liability matters. He's also a member of the Tennessee Association of Construction Counsel and the Construction Law Section of the Tennessee Bar Association.
"I'm focusing on construction cases for a couple of reasons," says Barry, who handled many construction cases as a full-time attorney. "They tend to be more complex, which I like. Construction law is interesting to me, and Nashville is a booming place when it comes to construction. I find them interesting and more of an intellectual challenge."
Barry handled many notable construction cases as an attorney, including one that involved the Tennessee Titans' stadium which had a water main break a week before the playoffs. Barry represented the plumbing company that installed the water mains.
Beyond Construction Law
His mediation practice isn't limited to construction cases, however. "I still do personal injury, catastrophic automobile accidents, truck accidents, premises liability, and professional liability cases, including medical malpractice, legal malpractice," he says. "I just did an insurance agent errors and omissions case the other day.
"These kinds of cases involve a different skill set, and that is something I picked up in my private practice over the years," says Barry. "I have an accounting degree, and doing accountant malpractice cases or cases involving insurance agents involves a different skill set when you're dealing with professionals. With construction cases, it's more technical and involves engineers, architects, and that kind of thing."
Getting Outside as Often as Possible
But Barry does more than mediate. The self-described "serial hobbyist" always makes time to pursue other interests. Barry used to restore and fly military airplanes and was an instrument-rated and air-show-formation-qualified private pilot. Before that, he was an avid golfer.
"You can only afford one expensive hobby at a time," says Barry with a laugh. "I gave up golf about 30 years ago. I was a member of a country club and golfed often, but I gave that up for the planes." He's returned to golf recently, however, as his 10-year-old grandson started taking golf lessons about a year ago, and Barry has been hitting the links with him.
Barry is also an avid motorcyclist. "I've been riding motorcycles since I was 20," he says. "I've had three or four motorcycles since then and bought my current Harley Davidson in 2010."
Last year he and his wife took a motorcycle vacation with two other couples, traveling to the Badlands and Black Hills of South Dakota, Yellowstone National Park, Grand Teton National Park, and Glacier National Park.
When they're not exploring the world on two wheels, he and his family spend many weekends on their 96-foot-long houseboat. "My parents were boaters, so I've been boating since I was seven or eight years old," he says. He has a stepson and stepdaughter and is the proud "bonus" grandpa of three grandchildren —an 18-year-old granddaughter and 16-year-old granddaughter in addition to his golfing grandson, all of whom live nearby.
His favorite season is summer, and he loves to be outside as much as possible. "As long as I'm physically able, we'll be on the boat," he says. He also has an 85-pound golden retriever named Walter.
Now a full-time mediator, Barry has mediated more than 2,100 cases in person and more than 300 virtual mediations using Zoom. He's excited about continuing to grow his career. "My attitude is that every day is a gift," he says. "I love what I do as a mediator. I truly do love my job, and helping people try to resolve their problems. I love meeting people and getting to know them, and I tell them is that my attitude is we're going to get the case resolved for you … I can't promise it will settle but I can promise I'll do the best job I can for you."
ABOUT MILES MEDIATION & ARBITRATION
Miles Mediation & Arbitration is shaping the alternative dispute resolution (ADR) industry with our comprehensive professional services model that combines the expertise of our highly skilled, diverse panel of neutral with an unparalleled level of client support to guide and empower parties to fair, timely, and cost-effective resolution regardless of case size, specialization, or complexity. For more information, please call 888-305-3553 or email support@milesadr.com.