The Impact of Pandemic – Related HOS Exemptions on Trucking Cases
Wed, May 4th, 2022 | by Miles Mediation and Arbitration | Education | Social Share
When lawsuits occur in the trucking industry, the potential for "nuclear verdicts" – verdicts where a jury award exceeds $10 million – is enormous. According to the most recent research  on the matter from the American Transportation Research Institute (ATRI), the number of verdicts with awards that exceed $1 million has increased astronomically – by as much as 1,000% between 2010 and 2018, rising from an average award of $2.3 million to $22.3 million. The costs of these lawsuits are devastating for trucking companies, insurance companies and drivers. And the emotional toll the entire process takes on everyone, especially plaintiffs, is tremendous.
Most trucking cases are the result of an accident
Most of these lawsuits are the result of a road accident involving one or more trucks and other vehicle(s) and may result in loss of life or catastrophic injury to the truck driver, one of the other vehicle drivers or any passengers involved. Cases involving drivers having a shoddy driving history, including lack of a clean driving record, fatigue or hours of service (HOS) violations yielded the highest average payments.
Prior to the start of the COVID-19 pandemic, the U.S. federal government had been increasingly restricting HOS for drivers in the trucking industry, including electronic logging devices (ELDs) that automatically report driving time.
However, in March of 2020, the Federal Motor Carrier Safety Administration (FMCSA) issued an Emergency Declaration which essentially waived the HOS requirements for loads that included specific items related to the pandemic. The declaration has since been amended and extended multiple times and is currently set to expire at the end of May 2022. However, the list is open to interpretation and adds more potential problems where driver safety could further complicate future disputes. This article will go over some of those issues and how mediation can help all parties involved come to a mutually agreeable solution.
Types of accident-related legal disputes and the complexities involved
The most common type of legal disputes mediated in the trucking industry involve accidents that occurred during the course of cargo delivery. They include accidents involving two or more trucks, accidents involving a truck and a car, accidents involving a truck and multiple cars, etc. In addition to vehicle crashes, sometimes accidents occur due to an improper loading issue. Loading-related accidents can include situations where a load falls out of the back of a truck either onto the road where it creates a hazard that causes an accident or directly onto the vehicle or vehicles behind it.  You may also see truck v. pedestrian, truck v. Forklift, or even bumping into a loading dock causing someone to fall.
Accidents, where there's a semi-truck involved, are like a car accident on steroids. The potential for injuries and death is great. Emotions are high and, in most cases, a defendant may be able to sue multiple parties. Depending on the situation and whether a driver works for a trucking company or is an independent owner-operator, the group of plaintiffs could include:
The driver
The trucking company
The insurance company
The broker
The shipping company (if there is one)
Furthermore, in some states, there are apportionment statutes that allow fault to be shared between different parties regardless of whether they were part of the litigation.  We know in Georgia, these issues are becoming more complex.  Under Quynn v. Hulsey, 850 S.E.2d 725 Ga 2020, addresses the issue of vicarious liability to the employer if the employee is negligent.  Previously an employer could be granted summary judgment on the claims of negligent entrustment, hiring, training, supervision, and retention unless punitive damages have been pled.  However, this case abrogates the Respondeat Superior rule in favor of the apportionment statute O.C.G.A. 51-12-33.  The jury can now consider a separate negligence in hiring without a punitive damages claim.
Alston & Bird v. Hatcher Management, 312 Ga 350 (2021) found that apportionment does not apply when there is only one defendant in the case.  The apportionment statute is specific in that it only applies when there is more than one defendant. This may be addressed by the legislature, but in the interim, it directly affects apportionment or lack thereof, between the parties. Only defendants in multi-defendant cases can apportion damages to non-parties.
Normally, drivers and trucking companies are bound by federal HOS regulations  and the federal ELD mandate
Truck drivers work inordinately long hours. According to the FMCSA, driver error is involved in 88% of truck-related accidents, and truck driver fatigue causes 40% of crashes. Furthermore, the National Highway Traffic Safety Administration (NHTSA) claims 40,000 crash-related injuries and 1,500 fatalities are the result of sleep-deprived drivers. There are multiple laws whose purpose is to regulate safety issues in the trucking industry, the most notable being the Federal Motor Carrier Safety Administration Hours of Service Regulations. The HOS regulations are designed to reduce driver fatigue and prevent accidents caused by sleep-deprived drivers who have slower reaction times and are less alert.
The HOS regulations stipulate that commercial truck drivers can drive for a maximum of 11-hours and may not drive beyond the 14th consecutive hour of being on duty. After 60/70 hours on duty in a 7/8 consecutive day period, drivers must take 34 or more hours off duty before restarting a new 7/8 consecutive day period. The HOS regulations also include provisions for a 30-minute break after 8 hours. It also includes 2-hour extensions of drive time for adverse driving conditions that prohibit the driver from stopping to if they've been driving for 8 hours or 11 hours or they've been on duty for 60/70 hours and it's time for them to take their 34 or more hours off.
Another federal regulation, the electronic logging device (ELD) mandate helps ensure carriers and drivers comply with the HOS rules. The ELD automatically synchronizes with the truck's engine to record drive-time and also allows driver record of duty status (RODs) entries. However, in spite of these and other safety regulations, many drivers still are awake for long hours and are compensated in such a way that they're incentivized to drive faster and longer than it's safe to do so. Plus, it's unclear if the regulations have decreased truck-related crashes and fatalities. Truck crash fatalities have continued to increase most years but decreased slightly in 2020 (the last year of vehicle crash-related data that have been issued to date). But in 2020, the COVID-19 pandemic resulted in worldwide lockdowns and temporarily reduced the number of consumer vehicles on public roadways. It will be interesting to see what happens once the numbers for truck accidents are released for 2021, especially how emergency declarations might have impacted the data.
Federal COVID-19 Emergency Declaration and HOS regulations
Besides fewer consumer-driven vehicles during the first year of the pandemic, COVID-19 altered one of the key safety regulations for some types of commercial freight, specifically the HOS regulations. In March of that year, a Federal Emergency declaration was issued by the FMCSA  that suspends the HOS regulations for drivers when they're hauling specific essential cargo that's in "direct assistance in support of relief efforts." The declaration has been extended multiple times throughout the pandemic. Barring any further extensions, the Emergency Declaration is scheduled to end at the end of May 2022. Regardless, the list of items it covers is very broad, open to interpretation, and changes periodically. The current list includes:
Livestock and livestock feed
COVID-19 related medical supplies and equipment related to the testing, diagnosis, and treatment of COVID-19
Vaccine, constituent products, and medical supplies and equipment, including supplies/kits to administer vaccines and related COVID-19 preventatives
Community safety and sanitation supplies for the prevention of COVID-19 – e.g., personal protective equipment (PPE) such as masks and gloves, as well as sanitation supplies like disinfectants, hand sanitizer and soap
Paper products, food, and other groceries for emergency restocking of stores and distribution centers
Gasoline, diesel, jet fuel, and ethyl alcohol
Lumber supplies
Supplies to assist individual improvements related to consequences from the COVID-19 pandemic, including building material for individuals displaced or otherwise impacted by the pandemic
Automobiles and automotive parts
The FMCSA guidance on the declaration explains that the HOS waiver does not include routine commercial deliveries or mixed loads where essential supplies from the list are added to the delivery to attempt to qualify for the emergency relief exemption. Instead, the load must include qualifying items that are related to restoring essential supplies as quickly as possible. Furthermore, since August 31, 2021, all motor carriers must report monthly when one or more of their commercial vehicles operates under the HOS waiver. However, the emergency declaration does not waive the ELD requirements, and it does not extend to trucks returning empty after completion of a delivery covered by the emergency HOS exemption. The declaration also reiterates that the HOS waiver does not suspend the existing HOS regulations around fatigue and rest breaks. Trucking companies must allow fatigued drivers who request a rest break at least 10 consecutive off-duty hours and carriers must not compel or allow fatigued drivers to continue their operating time until they have taken 10 hours off.
Disputes and potential problems if a driver is covered under the Emergency Declaration HOS waiver when they're involved in an accident
Trucking companies are keeping a close eye on the declaration and how it plays out should there be any lawsuits that arise due to accidents that occur when a truck is hauling anything that could be interpreted by either side to be on the list.
That could be a wise decision. There are several potential issues that could come into play should a driver who is driving under the emergency HOS waiver gets into a wreck that results in a legal dispute.
Some items on the list could be deemed as both pandemic-related and as regular delivery items – e.g., groceries, disinfectant, soap, paper products and several other items.
The term, "otherwise impacted by the pandemic" on the list of covered cargo is extremely vague. One could potentially argue that everyone has been impacted by the pandemic.
What constitutes "driver fatigue" is never defined in the Emergency Declaration.
It is up to the individual corporations to police driver fatigue.
What if an obviously "fatigued" driver fails to request a break?
Ultimately, a jury may have to decide what the solutions are to the above problems. But accidents involving semi-trucks will still happen beforehand. While mediation might not be able to close any loopholes in the legal definitions of terms within the declaration, it can help all parties involved to compromise on an outcome.
How mediation can help resolve most types of accident-related trucking disputes
Whether it's the truck driver who lost control and caused the crash, the driver of a car, or adverse road conditions; any accident involving a multi-ton truck has enormous potential to include serious injury or injuries, including fatalities. When families have lost a close relative or relatives, there's often anger and the desire to punish the driver and any other party that they blame for the accident.
Mediation provides accident victims and their loved ones the opportunity to achieve closure and put the accident in their rearview mirror and helps them look to the future.
On the defendant side, mediation saves money for the companies being sued in legal costs.  It gives them the opportunity to control the outcome of the litigation and protect against any potential nuclear verdicts. It helps them assess the risks and get ahead of future risk and move forward with their business.
For all parties, choosing mediation is an opportunity for everyone to put all their cards on the table in a safe and confidential environment which allows for the parties to be the ultimate decision-makers. Yes, that means compromising.  Mediation allows defendants and plaintiffs alike to have control over the outcome instead of 12 strangers that make up a jury making the decision for them. Mediation removes the risk, cost, and stress from the equation for everyone involved.
ABOUT DEBBIE TARKINGTON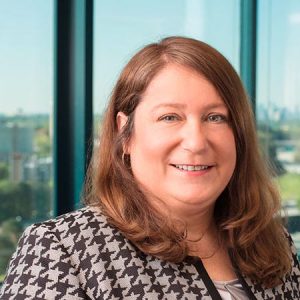 Debbie Tarkington started her legal career as an associate with Greer, Klosik, Daugherty & Swank, where she practiced from 1994 – 1999. Debbie moved over to the Law Office of James C. McLaughlin –  staff counsel to Liberty Mutual Insurance Company – from  2004 – 2016.  There she was the lead litigation attorney and she handled only the most complex medical/auto and commercial litigation cases.  Debbie handled trial work and litigation in the areas of premises liability, automobile/truck accident cases, wrongful death, catastrophic injury, and construction defect.  In the area of premises liability, Debbie's experience includes slip/trip and fall, negligent security, and Dram Shop Act. Debbie was designated counsel for several restaurants, hotels/motels, and construction companies. She has been a mediator for Miles Mediation since 2016.