Winter Wheeler Presents at the NBA 2023 Labor and Employment Section Annual Conference
Thu, Oct 19th, 2023 | by Miles Mediation and Arbitration | Events | Social Share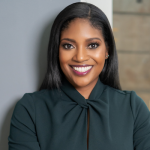 Miles' mediator and arbitrator Winter Wheeler will present at the National Bar Association (NBA) 2023 Labor and Employment Section Annual Conference hosted at the Loews Miami Beach Hotel from October 26–29, 2023. She will present during the session, "Anatomy of an Employment Case Part I," along with panelists Kendall Onyendu, Outten & Golden; Jasmine Harding Adams, Esq., Ogletree Deakins; Sharde Skahan, Esq., Seyfarth Shaw LLP; and Natasha Sarah-Lorraine Banks, Esq., Celsius Holdings Inc. / NSL Consulting LLC.
Winter's panel will take place on Thursday, October 26 from 1:30 – 2:30 PM and will include analysis and discussion of considerations and strategies from case intake and evaluation, discovery, motion practice, and mediation through pre-trial preparation.
ABOUT MILES MEDIATION & ARBITRATION
Miles Mediation & Arbitration, headquartered in Atlanta, is an award-winning alternative dispute resolution (ADR) firm. The firm specializes in mediation, arbitration, special master and all forms of dispute management and is known for its exceptional client service and reputation of delivering successful results. The firm handles all case sizes and types, including complex, multi-party disputes in areas of business, finance, construction, medical negligence, personal injury, wrongful death, trucking, real estate, insurance coverage, fiduciary, estate and probate, and premises liability. For more information, please call 888-305-3553.