Getting to Know Nashville Mediator Andy Rowlett
Wed, Oct 13th, 2021 | by Miles Mediation and Arbitration | Get to Know our Neutrals | Social Share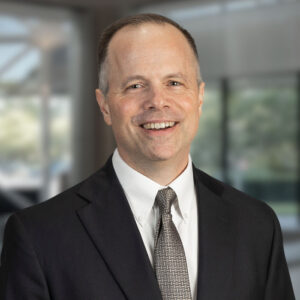 Andy is a skilled mediator known for his responsiveness and persistence. During his over 25-year litigation career, Andy has handled matters involving personal injuries, property losses (subrogation and recovery), insurance coverage, commercial disputes, and appeals. He uses this experience in his mediation practice to get cases resolved, including helping parties consider novel approaches. When Andy is not settling cases, he unwinds by trying out new recipes with his wife, playing pool, watching movies, reading, and exercising.
What made you want to become a lawyer?
Growing up, we were taught to stick up for folks who are being treated unfairly. I had several lawyers in my extended family, along with pastors and teachers. When I was in college, I decided that becoming a lawyer was the best career path for me based on my talents and my desire to help people. It has turned out to be a great fit!
What is your area of practice?
Civil litigation. Most of my current work involves personal injuries, property losses (subrogation), commercial litigation, and insurance coverage litigation. My personal injury cases have included products liability, general liability, premises liability, motor vehicle accidents (including truck accidents), and wrongful death claims. I have also litigated landlord/tenant disputes, professional liability (including health care liability and pharmacy malpractice), and construction defect claims. My insurance coverage litigation has included declaratory judgment actions and bad faith and extra-contractual claims. I have handled property losses caused by fires, explosions, and water damage, typically with significant contract issues.
What are you most proud of with respect to your career?
While I have had many positive jury verdicts in cases we have taken to trial, multiple favorable rulings on appeals, and several large subrogation recoveries, I am most proud of having helped witnesses and clients through difficult and upsetting cases. Witnesses often find testifying to be very stressful, and it has been extremely rewarding to help them learn how to manage the strain and pressure of it. However, cases involving the death of one or more young people have been the most challenging personally. I am very proud of my work on those tragic cases and the assistance I was able to provide to the families.
Why did you become a neutral?
I know from over 25 years of litigation, including many trials, that resolving matters through ADR is often a better choice than trial and appeal. I have the knowledge, judgment, experience, and skills to help litigants assess the strengths and weaknesses of their claims and defenses and to help them understand why a reasonable settlement is a better option than taking a case through trial and possibly appeal. This analysis is an important tool for parties to be able to reach common ground in mediation. I became a neutral to utilize my abilities and experience to assist parties in pursuing settlements and because resolving disputes by settlement is so often a win/win for the parties.
What does ADR look like in 10 years?
ADR continues to grow as the best tool for controlling litigation costs and for avoiding the uncertainty, time, and stress inherent in litigation. While I much prefer meeting with parties and lawyers in person, the increase in remote video mediation has given participants a great opportunity to save time, fees, and expenses, to avoid travel, and to be able to mediate from the comfort of their own home or their lawyers' office. Remote video mediation can be easier to schedule during off hours to accommodate the work schedules of parties. Injured parties may have mobility issues that can make traveling to an in-person mediation challenging and/or stressful. The more technology can be used to help us satisfy the needs and wants of the parties and their lawyers and to give them more control over their disputes, the better.
What is your conflict resolution style/ approach?
My goal is to tailor my approach to the needs of each specific dispute. For the types of disputes that I work on as a lawyer, having the mediator help each party to see and understand the strengths and weaknesses in their side and why and how to avoid the possible adverse outcomes is usually the most effective approach for reaching a resolution.
What do you hope to accomplish through your ADR practice?
My main goal is to have parties and lawyers who are satisfied and who want to work with me again. If that happens, then I am serving them and the goals of ADR effectively, primarily helping parties reach resolutions that have the well-known benefits of ADR (party control over the outcome, reduced costs and stress, closure, etc.). I work hard to incorporate feedback from ADR participants to continuously improve the quality of my services.
How would your clients describe you?
Responsive. Focused on meeting their needs. Reliable. Politely persistent.
Where did you grow up?
My dad was a Methodist pastor, so we moved around growing up. I was born in Radford, Virginia while we were living in Austinville nearby. Even though he served multiple churches, he wound up being assigned twice to Johnson City, Tennessee and to Knoxville three times. In Knoxville, we lived in Karns, West Hills, and Fountain City. We also lived for several years in Galax, Virginia, the home of Virginia's oldest and largest Old Fiddlers' Convention. I have great memories of riding my bike with my brother all over Galax and of our playing little league baseball on the Moose Lodge team. After graduating from Bearden High School in Knoxville, I went to Emory University in Atlanta with help from scholarships and then on to Vanderbilt for law school here in Nashville. My wife and I have been married over 23 years and raised two great kids into adulthood.
What do you do in your spare time? How do you unwind?
Until recently, most of our spare time involved our two children. Our younger child graduated from high school in May 2020. During my spare time now, I jog, ride my bikes (one stationary and one hybrid), lift weights, take walks with my wife, read, and watch movies. We also enjoy playing pool and ping pong.
What characteristic do you admire most in others?
Empathy. People involved in lawsuits often need someone to hear their story and to respect their point of view to feel they are being treated fairly and to find closure. I focus every day on really listening to the folks I am working with.
What was your first law job?
My first job after graduating from law school in 1993 was clerking for Judge Clifford Sanders of the Tennessee Court of Appeals. His office was in Kingsport, Tennessee. Judge Sanders was so focused on his work that he did not mind having an office suite without any windows. My guess now is that a windowless office suite was inexpensive and that he did not want to pass up a bargain for the state! Judge Sanders worked hard to reach the right decisions for the parties. He paid attention to every detail in the record and read the controlling law very carefully. Judge Sanders was a great model for learning how to reach a fair and lawful outcome. My second job after law school, which I began in 1994, was working as an associate lawyer at Howell & Fisher, PLLC, in Nashville where I have remained ever since.
How did you decide to branch out into ADR?
Mediation was beginning to take off when I first started practicing law in 1994. I have seen that most cases can be resolved through mediation and that the tougher the loss, the more the case can benefit from ADR. After years of participating in mediations as a lawyer for parties, I decided that my years of experience in the courtroom, and in mediations and arbitrations, would provide a firm foundation for helping parties and lawyers who are trying to settle their cases. So, I became a Rule 31 Listed General Civil Mediator in Tennessee.
If you had to identify a passion for a particular area of the law, what would it be?
Interesting legal issues come up in all areas of law. I would have to say that my passion in my work is driven by where I can have the most impact and by the people that I get to work with. It is rewarding to help people who have been injured, which can have a major impact on that person's life. It is fulfilling in a different way to work with people involved in a commercial dispute or a claim involving only property damage. For all types of legal disputes, I focus on how the dispute impacts the parties and on finding the key to its resolution.
How does your experience help you add value to conflict resolution clients and their disputes?
I have tried over 30 jury trials in East, Middle, and West Tennessee, including over 20 jury trials since 2012. I have handled many disputes on appeal in both state and federal court. I have also been involved in many mediations representing a party, which has given me insight into what works and what does not. Because of this experience, I have the knowledge, judgment, and skills to help litigants assess the strengths and weaknesses of their claims and defenses. I have also worked closely with plaintiffs and defendants, including in-house lawyers, claims representatives, and risk managers, so I have a good sense of how they experience it.
What is the importance of alternative dispute resolution?
ADR is a unique and vital tool for avoiding the many downsides of litigation. Nothing else can substitute for it. A very high percentage of matters benefit immensely from it, including many of those disputes that are not resolved completely with ADR. The cases with serious losses have benefited the most from ADR. Serious losses are hard to deal with under the best of circumstances – ADR is very helpful in making it more manageable. Pursuing settlement without ADR is often either not possible or is much less likely to lead to a resolution. It would be hard to overstate the value that ADR has brought to dispute resolution in the last 20-30 years.
How has your life experience made you the neutral you are today?
My parents always taught us the importance of service. My dad was a pastor, and my mom was a piano teacher. (They are both retired and living in Knoxville.) I have seen in my work how mediation can help litigants immensely. The way my parents raised us along with my experience with people has made me an empathetic person who cares about helping people in their efforts to resolve matters.
In your estimation, why do clients like working with you?
I deliver excellent results and work product. I really enjoy talking with my clients – I hope they feel the same way.
How does ADR help make lawyers more successful?
Lawyers pursue their clients' best interests. For most disputes, ADR is the best tool to obtain results that are in clients' best interests while avoiding risk, expense, etc. When a lawyer's clients are happy with their lawyer's role in and work on ADR, that benefits the lawyer's reputation. Lawyers who settle cases have more time to work on other matters, and their clients can return to focusing on other important aspects of their lives.
If you had to teach a subject, what would it be?
Analytical thinking and clear writing.
What makes Tennessee such a dynamic state?
We have great people here. Tennessee's welcoming spirit fosters a vibrant and creative community and a growing and diversified economy. People and companies are moving here for many reasons, including our impressive colleges and universities, our flourishing entrepreneurial activity, and our beautiful natural areas such as the Great Smoky Mountains and many parts of the Cumberland Plateau.
What is your favorite holiday and why?
For us, it is Christmas. We get to spend a lot of time with family celebrating fun traditions, great memories and music, and delicious food.
What is something your clients would never guess about you?
If I am talking with them on the phone, there is a decent chance that I am walking on a treadmill desk while doing so. I sang in the Men's Glee Club in college. While I did it just for the fun of it, it further confirmed that my talents were concentrated in other areas. Since my wife and I bought our family a pool table several years ago, I have become a pretty good shot!
What is the most important lesson you've learned in your career to date?
Persistence is the key to success.
If you weren't a lawyer, what would you be?
A history teacher. I am fascinated by the lessons we can learn from the history of any era, community, or event.
If you could have dinner with one person, living or dead, who would it be and why?
Nelson Mandela. He was one of the most impressive leaders in world history. He was awarded the Nobel Peace Prize (with President Frederik Willem de Klerk) "for their work for the peaceful termination of the apartheid regime, and for laying the foundations for a new democratic South Africa." He said, "We must strive to be moved by a generosity of spirit that will enable us to outgrow the hatred and conflicts of the past." All of us have opportunities to apply this insight. Mediation's greatest benefit is that it helps parties move beyond their conflicts and toward closure. His example is a great testament to the possibility and value of resolving conflicts civilly.
What is your favorite book? Why?
The Undoing Project by Michael Lewis. Lewis is a fantastic writer. He explains complicated issues as part of a captivating story about fascinating people. The psychological researchers that this book discusses, Daniel Kahneman and Amos Tversky, led us to a deeper understanding of how people think.
Do you have a favorite quote?
I have a few favorite quotes, depending on what is happening on any given day.
"That ain't right … And I'm tired of what ain't right." Mal Johnson, Danny Glover's character in the movie Silverado.
"A bird in the hand is worth two in the bush."
"Strive not to be a success, but rather to be of value." Albert Einstein
To learn more about Andy Rowlett or to view his online calendar, click here.