Ben McCoy Joins Miles Mediation & Arbitration in Columbia, SC
Tue, Mar 22nd, 2022 | by Miles Mediation and Arbitration | Press Releases | Social Share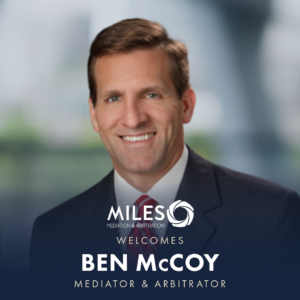 COLUMBIA, SC, March 22, 2022 –  Miles Mediation & Arbitration, the fastest growing ADR provider in the Southeast, is proud to announce the addition of Ben McCoy to its panel in Columbia. Ben McCoy joined Howser, Newman, & Besley at its inception in 1996 and has been a member of the firm since 1999, and continues to serve as the firm's managing member. While the foundation of Ben's practice is civil litigation, mediation has become the primary facet of Ben's law practice.
Attorneys, State Legislators and Business Owners have hired Ben in nearly 2,000 cases and disputes to serve as Mediator and Arbitrator. The experience of handling both defense and plaintiff's matters helps make Ben desirable to both sides of the bar. Ben also is a certified Family Court mediator in South Carolina and accommodates litigants on the weekends, who are unable to miss work during the week.
"I'm very excited to have Ben join our panel," says John Miles, CEO of Miles Mediation & Arbitration. "Ben's expertise and the Miles brand are an unbeatable combination."
Ben has litigated cases and served as neutral in matters involving a wide variety of legal areas, including medical malpractice, professional negligence, business contracts and disputes, premises liability, construction, wrongful death, bodily injury, school districts, municipalities, and family.
ABOUT MILES MEDIATION & ARBITRATION
Miles Mediation & Arbitration is shaping the future of alternative dispute resolution (ADR) with our comprehensive professional services model that combines the expertise of our highly skilled and diverse panel of neutrals combined with an unparalleled level of client support in order to guide and empower parties to fair, timely and cost-effective resolution regardless of case size, specialization or complexity. For more information, please call 888-305-3553.