Blane McCarthy Joins Miles Mediation & Arbitration's Jacksonville Panel
Thu, Aug 26th, 2021 | by Miles Mediation and Arbitration | Press Releases | Social Share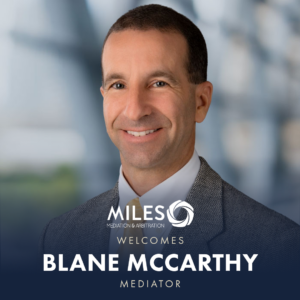 JACKSONVILLE, August 26, 2021 –  Miles Mediation & Arbitration, the largest ADR provider in the Southeast, is proud to announce the addition of Blane McCarthy to its panel in Jacksonville, FL. Blane has been a plaintiff's personal injury lawyer since 1995 and has been Board Certified in Civil Trial Law since 2010.  He is transitioning to full-time mediation, having also been a Florida Supreme Court Certified Circuit Mediator for 21 years. He has mediated a wide variety of legal issues, but primarily focuses on Personal Injury cases, including Global Settlement Conferences.
"I'm very excited to have Blane join our Jacksonville panel," says John Miles, CEO of Miles Mediation & Arbitration. "Blane is a well-respected attorney with over 21 years of mediation experience. He will be a key player in the growth and success of our Jacksonville office."
Blane brings peaceful resolutions to disputes in a way that is quick, professional, and cost-effective. He has been referred cases by judges, attorneys, businesses, individuals, and the State of Florida. He has received numerous awards including the Jacksonville Bar Association President's Award in 2019 and the Florida Bar President's Pro Bono Service Award in 2015.  He is currently the Treasurer of the Jacksonville Bar Association, having served on its Board of Governors since 2013.  Blane has had over twenty mediation articles published in the Jacksonville Daily Record and Jacksonville Bar Bulletin.  He brings a wealth of experience and expertise to the mediation process, especially for cases involving personal injury.
"I was excited to join a mediation practice as esteemed and established as Miles Mediation, to help launch its Jacksonville office," Blane shared.  "Our local team of neutrals is comprised of highly skilled, high-quality individuals with whom I am honored to affiliate. We are eager to put in the hard work and do our part to help you resolve your disputes."
ABOUT MILES MEDIATION & ARBITRATION
Miles Mediation & Arbitration, headquartered in Atlanta, is an award-winning alternative dispute resolution (ADR) firm. The firm specializes in mediation, arbitration, special master, and all forms of dispute management and is known for its exceptional client service and reputation of delivering successful results. The firm handles all case sizes and types, including complex, multi-party disputes in areas of business, finance, construction, medical negligence, personal injury, wrongful death, trucking, real estate, insurance coverage, fiduciary, estate and probate, and premises liability. For more information, please call 888-305-3553.