Jeff Ward Elevated to Senior Neutral in Savannah
Thu, Jan 27th, 2022 | by Miles Mediation and Arbitration | Press Releases | Social Share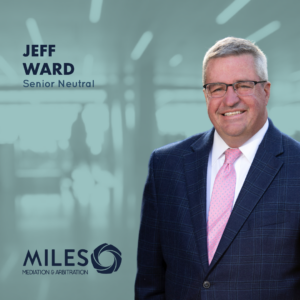 SAVANNAH, JANUARY 27, 2022— Miles Mediation & Arbitration is proud to announce it has promoted mediator and arbitrator Jeff Ward to Senior Neutral, the highest rank at the alternative dispute resolution (ADR) firm. Ward is based in Miles Mediation & Arbitration's Savannah office but travels to all areas of Georgia and Jacksonville.
''I'm so pleased that Jeff has become a senior neutral," said John Miles, CEO of Miles Mediation & Arbitration. "Jeff Ward is an elite neutral with an excellent reputation."
For nearly 20 years, Jeff Ward practiced as a trial lawyer in Georgia.  Over that span, he tried cases to jury verdicts in both state and federal court and regularly provided guidance and counsel to a variety of clients. His civil litigation experience encompasses pre-lawsuit consultation, trial practice, and the appeals process.  In 2016, Jeff began mediating cases and he now does so full time.
Jeff practiced General Casualty Law, Premises Liability, Catastrophic Personal Injury and Wrongful Death, Professional Malpractice Law, Commercial Transportation Law, and Construction Law.  For several years, he served as regional trial counsel for a Fortune Five international retailer in professional negligence matters. In addition, he represented clients ranging from Fortune 100 retail companies to hospitals, health care providers, and construction professionals. Over his career as a litigator, Jeff took and defended hundreds of depositions including expert witnesses in the medical, engineering, and construction fields.
Jeff earned an AV Preeminent Rating from Martindale-Hubbell recognizing his legal expertise and high ethical standards. He served for many years as a Brunswick Judicial Circuit representative on the State Bar of Georgia Board of Governors and a member of the U.S. District Court's Southern District Advisory Council. He is a past President of the Georgia Defense Lawyers Association (GDLA) and has been inducted into the National Academy of Distinguished Neutrals, Georgia Chapter.
ABOUT MILES MEDIATION & ARBITRATION
Miles Mediation & Arbitration is shaping the future of alternative dispute resolution (ADR) with our comprehensive professional services model that combines the expertise of our highly skilled and diverse panel of neutrals combined with an unparalleled level of client support in order to guide and empower parties to fair, timely and cost-effective resolution regardless of case size, specialization or complexity. For more information, please call 888-305-3553.