Michael Russell Elevated to Senior Neutral in Nashville
Fri, May 7th, 2021 | by Miles Mediation and Arbitration | Press Releases | Social Share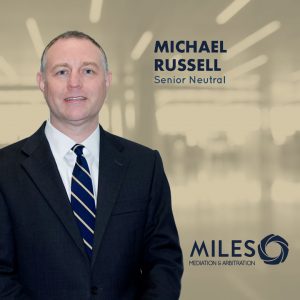 NASHVILLE, TN, MAY 7, 2021— Miles Mediation & Arbitration is proud to announce it has promoted mediator and arbitrator Michael Russell to Senior Neutral, the highest rank at the alternative dispute resolution (ADR) firm. Russell is based in Miles Mediation & Arbitration's Nashville office. 
''I'm so pleased that Michael has become a senior neutral." said John Miles, CEO of Miles Mediation & Arbitration. "Michael Russell is an elite neutral with a national reputation. He is paving the way for the growth and success of our Nashville office."
Michael has successfully mediated almost every type of civil action, including multi-plaintiff employment cases, complex business disputes, and nation-wide class actions. In addition, Michael has helped discretely resolve numerous disputes involving high-profile litigants.
Michael has a diverse legal background. He has tried jury trials for both plaintiffs and defendants, and he has appeared in courtrooms from New York to California. Prior to having a full-time ADR practice, Michael was a partner in a state-wide litigation boutique. He then became a partner in one of the oldest and largest firms in the Southeast, where he engaged in a nationwide employment litigation practice. He now devotes his entire practice to being a mediator and arbitrator.
Michael is a well-regarded speaker and writer. He has published articles in the American Journal of Trial Advocacy, the University of Memphis Law Review, the Ohio Northern University Law Review, the Seton Hall Constitutional Law Journal, and Employee Rights Quarterly. His articles have been cited by courts, scholars, and in testimony before the United States Congress. He has lectured nationally and internationally.
Michael has served on the boards of numerous civic and non-profit organizations, including the University of Tennessee Alumni Association, the UT Alumni Legislative Council, the National Conference of Law Reviews, the TBA Leadership Law Alumni Association, and the TBA Leadership Law Steering Committee. He is an active member of the ABA Federal Labor Standards Legislation Committee and was a co-founder of the Howell Edmunds Jackson American Inn of Court.
ABOUT MILES MEDIATION & ARBITRATION
 Miles Mediation & Arbitration, headquartered in Atlanta with offices in Charlotte, Savannah, and Nashville, is an award-winning alternative dispute resolution (ADR) firm. The firm specializes in mediation, arbitration, special master and all forms of dispute management and is known for its exceptional client service and reputation of delivering successful results. The firm handles all case sizes and types, including complex, multi-party disputes in areas of business, finance, construction, medical negligence, personal injury, wrongful death, trucking, real estate, insurance coverage, fiduciary, estate and probate, and premises liability. For more information, please call 888-305-3553.