Sarah B. Akins Elected President of the State Bar of Georgia
Mon, Jun 6th, 2022 | by Miles Mediation and Arbitration | Press Releases | Social Share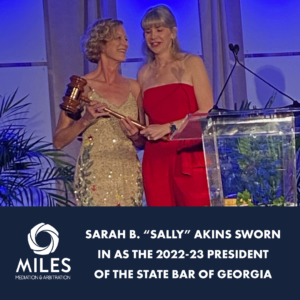 SAVANNAH, GA, JUNE 6, 2022 – Miles Mediation & Arbitration, the fastest growing alternative dispute resolution (ADR) firm in the Southeast, is proud to congratulate Sarah B. "Sally" Akins who was sworn in Saturday as the 2022-23 President of the State Bar of Georgia. A reception was held in her honor at the 2022 Annual Meeting of the State Bar of Georgia at Amelia Island Resort on Amelia Island, Florida.
''I'm so pleased to congratulate Sally in her new role as the State Bar President," said John Miles, Jr., CEO of Miles Mediation & Arbitration. "It's really no surprise, as she succeeds at everything she does. Well done Sally!"
Sally has been practicing law since 1993 and she is a partner at Ellis Painter law firm in Savannah. She has handled cases involving premises liability, automobile, and truck accidents, professional negligence (medical, legal and pharmaceutical) litigation involving counties and municipalities including civil rights cases and zoning cases, insurance coverage litigation, and products liability. After working solely as a litigator with Ellis Painter, she chose to focus on mediation and is a registered mediator and arbitrator.
Sally formerly served as Treasurer of the State Bar, and was 2020's Chair of the Georgia Board of Bar Examiners. She is also a past President of the Southeastern Georgia Chapter of the American Board of Trial Advocates, among other honors.
ABOUT MILES MEDIATION & ARBITRATION
Miles Mediation & Arbitration is shaping the future of alternative dispute resolution (ADR) with our comprehensive professional services model that combines the expertise of our highly skilled and diverse panel of neutrals combined with an unparalleled level of client support in order to guide and empower parties to fair, timely and cost-effective resolution regardless of case size, specialization or complexity. For more information, please call 888-305-3553.