Spotlight: Judge Jason Harper
Tue, Oct 3rd, 2023 | by Miles Mediation and Arbitration | Get to Know our Neutrals | Social Share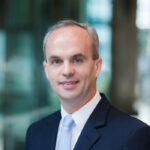 When Judge Jason Harper was on the bench fulltime, he often sent civil cases to mediation. Now the former judge of Henry County State Court and current senior judge mediates fulltime at Miles Mediation & Arbitration.
After Jason took senior status as a judge at only 45 years old, he decided to start mediating fulltime. He had worked with Miles' mediator Susan Forsling, another former judge, who recommended that he join the company. After meeting with John Miles, the then-CEO of the company, he joined Miles and quickly filled his calendar. "In the past two years, I have only served one day as senior judge," he says.
From Judge to Mediator and Arbitrator
Jason isn't the first, nor will be the last, judge to opt for a fulltime alternative dispute resolution (ADR) career. "As a mediator, I use the skill set I developed as a judge. After presiding over hundreds of jury trials, you know what juries tend to do in certain situations. You also come to know what certain venues may do, particularly as a senior judge, when you travel to different counties and areas of the state," he says. "When I go into mediation, I share with both sides their risk levels, which include fact questions and legal issues, such as if there are motions pending that the court hasn't ruled upon yet."
He admits that judges can make poor mediators if they try to impose their opinions on the parties. Jason doesn't do that. "Early on, John Miles told me, 'If you're going to be successful as a mediator, you have to take off the robe,'" he says. "You can't force your opinions on people … I tell folks when I begin mediating that I'm here to help them settle their case. I may give the perspective of 'Judge Jason,' on legal issues or may give my perspective as 'Juror Jason' in terms of what the jury may ultimately do."
The Key to a Successful Practice
He's thoughtful about his success as a mediator and arbitrator who has quickly built a successful ADR practice. "John Miles told me that it doesn't matter who you are or how many people you know — your practice will depend on how you perform," he says. "You may get them in the door, but you must give them good service and get good results to build your practice. A mediator's practice is built on doing a case and doing it well. You slowly build your practice that way."
Jason mediates a lot of personal injury cases as well as business and commercial disputes; he's also done some product liability and medical malpractice work. "My mediation work has mirrored my caseload as a judge," he says. He also believes in being prepared and goes into the office early before every mediation to review the case before the mediation begins.
While some mediators may take the approach that parties should leave a mediation feeling at least a little bit unhappy with the results but content that they settled, Jason takes a different one. "I have the mindset that everyone should leave the mediation if not happy, at least satisfied, with the decision and that they don't feel they've given up too much — that they've made an educated decision or the best that they could do under given circumstances," he says.
At home, he admits to binge watching shows on Netflix, and enjoys spending time with his children. He is the father of five ranging in ages from 14 to 26. "For relaxation, I have a boat and love the lake and being out on the water," he says.
But while he enjoys a slower pace during his downtime, he's committed to helping parties resolve their differences, sooner rather than later. "I like to keep the parties moving — that's one part of being a judge that I use as a mediator," says Jason. "It's important for the parties to be fully heard or for some to have their de facto day in court at mediation — but it's the mediator's job to not let it get bogged down and to keep the process moving efficiently."
ABOUT MILES MEDIATION & ARBITRATION
Miles Mediation & Arbitration is shaping the alternative dispute resolution (ADR) industry with our comprehensive professional services model that combines the expertise of our highly skilled, diverse panel of neutral with an unparalleled level of client support to guide and empower parties to fair, timely, and cost-effective resolution regardless of case size, specialization, or complexity. For more information, please call 888-305-3553 or email support@milesadr.com.