Melissa Maravich Joins Miles Mediation & Arbitration in Nashville
Tue, May 4th, 2021 | by Miles Mediation and Arbitration | Press Releases | Social Share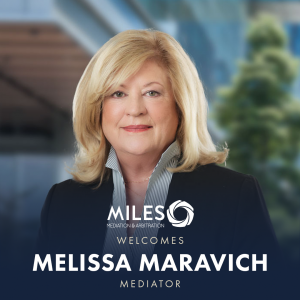 NASHVILLE, MAY 4, 2021 –  Miles Mediation & Arbitration, the largest ADR provider in the Southeast, is proud to announce the addition of Melissa Maravich to its panel in Nashville. Maravich is a mediator specializing in commercial and business litigation, insurance defense and coverage, catastrophic claims, and transportation cases. Melissa Maravich is a partner at Burch, Porter & Johnson in Memphis where she has a diverse litigation practice. She has appeared before state, federal, and appellate courts in numerous jurisdictions. Her current practice primarily focuses on commercial and business litigation, insurance defense and coverage, catastrophic claims, and transportation cases.
"I'm excited that Melissa has decided to join our panel," said John Miles, CEO of Miles Mediation & Arbitration. "We continue to expand our panel of talented neutrals at Miles. She is an experienced and respected litigator and has been mediating since 2002. Melissa is a great addition to the Nashville team."
Ms. Maravich is currently the managing member for the firm's largest insurance company client and handles general commercial liability, catastrophic claims, complex commercial litigation, and coverage issues on behalf of insurance companies and corporations. Ms. Maravich also represents corporations and municipalities in employment, property/zoning matters, and large commercial lease disputes.  Ms. Maravich participates in various national transportation and insurance defense practice groups and defends corporations in wrongful death and property damage cases.
Prior to her defense work, Ms. Maravich had an active plaintiff's practice focusing on civil rights litigation against municipalities, employment discrimination, wrongful death actions, and products liability. She has experience in mass tort, class action, and multi-district litigation matters.
"I was thrilled to join Miles Mediation and Arbitration as over the years I have learned that mediation and resolution, as early as possible, is the best alternative for litigants," Melissa shares. "Although people may start a case with enthusiasm or a strong desire to defend, once discovery starts, the time expended, the cost incurred and the stress involved is much greater than expected at the onset. Perhaps worse, if a case goes to trial, no party is happy at the end. Either the cost has been too great on the defense, or the plaintiff did not obtain the verdict wanted- and then, there is the entire appeals process. By working with people and allowing them to be heard, I believe that mediation is the best remedy for an early, less costly resolution, and I look forward to helping litigants achieve this result."
ABOUT MILES MEDIATION & ARBITRATION
Miles Mediation & Arbitration, headquartered in Atlanta, is an award-winning alternative dispute resolution (ADR) firm with locations in Atlanta, Nashville, Charlotte, and Savannah. The firm specializes in mediation, arbitration, special master, and all forms of dispute management and is known for its exceptional client service and reputation of delivering successful results. The firm handles all case sizes and types, including complex, multi-party disputes in areas of business, finance, construction, medical negligence, personal injury, wrongful death, trucking, real estate, insurance coverage, fiduciary, estate and probate, and premises liability. For more information, please call 888-305-3553.