Getting to Know Jacksonville Mediator John McCorvey
Tue, Dec 14th, 2021 | by Miles Mediation and Arbitration | News, Uncategorized | Social Share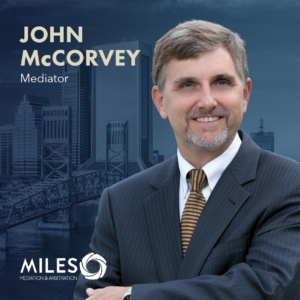 John McCorvey  Jr. is an accomplished litigation attorney with an extensive background in commercial and real estate litigation, including an emphasis on creditors' rights. He is also a Florida Supreme Court Certified Circuit Civil Mediator.
What made you want to become a lawyer?
I have a natural ability for law. I can think in the abstract and have a gift for writing. I enjoyed analyzing cases and statutes to find the answer to challenging questions of law both in law school and in the practice of law. I derive a deep sense of satisfaction by guiding clients through difficult situations to positive outcomes.
What is your area of specialization?
I practice in the areas of business disputes, creditors' rights, real estate litigation, landlord-tenant disputes, foreclosure and asset recovery, as well as homeowners' association and condominium association disputes.
What are you most proud of with respect to your career?
I am most proud of the reputation I've built for honesty, integrity and trust with other attorneys and clients.
Why did you become a Neutral?
I have been practicing law for 31 years. After practicing for 18 years, I saw some of the downsides to litigation such as the expense, the stress upon the litigants, the uncertainly of the outcome, and the length of time to achieve an outcome, including time spent on appeals. I realized then, and still believe now, that mediation is a better alternative to litigation in 90% of legal disputes.
What does ADR look like in 10 years?
I anticipate that ADR will be further integrated into the court system. Mediation is already mandatory in many cases and has proved to be a very successful process for resolving disputes. I can envision ADR being further ingrained into the legal system to the point that ADR becomes a branch of the legal system with parties having the option of choosing ADR instead of filing a complaint or petition to resolve their disputes.
What is your conflict resolution style/ approach?
I like to listen more than speak, especially at the beginning of the mediation process. This gives litigants and their counsel an opportunity to be heard. Once that has occurred, I like to point out that regardless of how much animosity may exist between the parties, much of that is water under the bridge, and the focus now should be on the best way to move forward and resolve the dispute. I focus on the underlying interests of the positions taken by the parties. Understanding underlying interests can lead to creative solutions that may circumvent the positions of the parties but satisfy the underlying concerns that are the true driving forces behind any dispute. I emphasize that mediation provides the litigants an opportunity to fashion the solution to their dispute instead of relying on a court system that is sometimes constrained by the remedies available at law or in equity.
What do you hope to accomplish through your ADR practice and how does ADR help make lawyers more successful?
My goal is to bring closure to as many disputes as possible with agreements that the parties and their counsel have played an important role in fashioning. Lawyers are helped by playing an important role in solving their client's legal problems in a more creative, cost-effective and expedient manner than the courts could provide. Clients see the value of having capable counsel guide them through the process along with the mediator and respect counsel for putting the interests of the client before their own.
How would your clients describe you and what they like most about working with you?
Clients describe me as a relaxed mediator with an even demeanor and a calming presence. I am friendly, empathetic, and easy to work with. I am careful to remind litigants throughout the process that this is "their mediation" and they ultimately decide what is acceptable and not acceptable in terms of an agreement. This places litigants at ease and creates an atmosphere that facilitates conflict resolution. I do not believe in strong-arming litigants into agreements they accept reluctantly. Clients like that my personality and approach effectively diffuses conflict and underlying emotions so that their clients can make clear-minded, rationale decisions.
What is something your clients would never guess about you?
That I too, experience emotions throughout the process, despite the fact that I never let my feelings or emotions show except to empathize with the litigants.
What is the most important lesson you've learned in your career to date?
Character counts in mediation as in all aspects of life. A litigant is far less likely to be persuaded by or listen to a mediator they do not really trust. A person can sense when the mediator is more concerned with settling a case for their own edification instead of working towards an agreement that truly addresses the concerns and interests of the parties.
If you weren't a lawyer, what would you be?
I enjoy the outdoors and my passion is fishing and dogs. I also enjoy people. My fantasy jobs would be working as a fishing guide, or dog breeder.
What characteristic do you admire most in others?
I admire good character and values, trustworthiness and honesty, forgiveness, selflessness, humility, gratitude, and a good sense of humor.
How has your life experience made you the neutral you are today?
Naturally, my 31 years of practicing law influences the type of neutral I am today. Perhaps more importantly, the challenges I have faced in my life have taught me important life lessons like how to win and lose, resiliency when life doesn't go as planned, and the imperfection of life and mankind, myself included. Life experience has also taught me the importance of doing the right thing even when it is not the easy thing to do. But above all, my faith in God has shaped the values to which I ascribe and try to honor in my daily living.
Where did you grow up?
Jacksonville, Florida
What do you do in your spare time? How do you unwind?
I enjoy the outdoors, especially fishing, and spending time with my family and friends.
What is your favorite holiday and why?
I enjoy Christmas because of what it celebrates and because it just seems to bring out the best in people, like charity and goodwill.
If you could have dinner with any one person, living or dead, who would it be and why?
Abraham Lincoln. I would like to ask him how he dealt with his dysphoric mood, and loved his wife despite her emotional challenges, as well as all the external pressures of serving as President during the civil war. To me, he was a man of unwavering perseverance and good character.
What is your favorite book? Why?
"The Old Man and the Sea" by Hemingway. It is a story that teaches the triumphs of man are sometimes subject to the futility of life.
Do you have a favorite quote?
Genius is one percent inspiration and ninety-nine percent perspiration. – Thomas Edison