Jim Cooley – New Chairman of the North Carolina Bar Association
Thu, Jun 30th, 2022 | by Miles Mediation and Arbitration | Press Releases | Social Share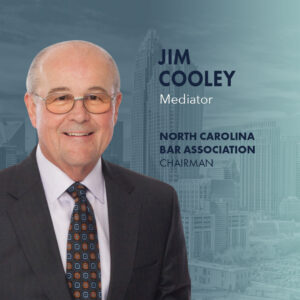 CHARLOTTE, NC, June 30, 2022 – Miles Mediation & Arbitration, the fastest growing alternative dispute resolution (ADR) firm in the Southeast, is proud to congratulate Charlotte neutral Jim Cooley as the new Chairman of the North Carolina Bar Association, which starts tomorrow, July 1, 2022.
Cooley has already taken on the responsibilities of his new position and has tapped Miles neutral Steve Dunn to chair the Section's Communications Committee ("Mr. Blogpost"). He will also be calling on Miles neutral Nancy Black Norelli to help him with a long-term planning committee. Jim will be an ex officio member of the NC Dispute Resolution Commission during his tenure. He has served on that commission for six years.
"I am delighted to hear that the NCBA recognizes Jim's superior skills as an attorney and a leader. He greatly deserves the honor," CEO John Miles shared.
A graduate of the University of North Carolina School of Law, Jim Cooley has been litigating complex business cases since he joined the firm of Womble Bond Dickinson (formerly Womble Carlyle) in 1985. He is now a senior partner in their Charlotte office. During his career he has represented financial institutions and conducted internal corporate investigations. He has a keen interest in constitutional rights litigation, primarily representing government bodies. At Womble Bond Dickinson he was the Practice Group Leader of the Firm's 90-lawyer Business Litigation Practice Group from 1996-1998 and again from 2006-2012, and he headed the Financial Services Litigation Team from 2013-2018.
Cooley is a neutral with Miles Mediation in Charlotte, where he mediates disputes of all kinds. In addition to his many years of litigation experience, including over 50 jury trials, Jim is a Certified Mediator in North Carolina and a court approved mediator in each of North Carolina's federal courts.
ABOUT MILES MEDIATION & ARBITRATION
Miles Mediation & Arbitration is shaping the future of alternative dispute resolution (ADR) with our comprehensive professional services model that combines the expertise of our highly skilled and diverse panel of neutrals combined with an unparalleled level of client support in order to guide and empower parties to fair, timely and cost-effective resolution regardless of case size, specialization or complexity. For more information, please call 888-305-3553.