Leesa A. Bohler Joins Miles Mediation & Arbitration's Savannah Panel
Mon, Dec 6th, 2021 | by Miles Mediation and Arbitration | Press Releases | Social Share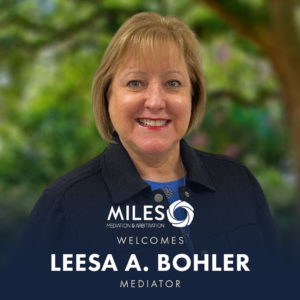 SAVANNAH, December 6, 2021 –  Miles Mediation & Arbitration, the fastest growing ADR provider in the Southeast, is proud to announce the addition of Leesa A. Bohler to its panel in Savannah. Leesa received her mediation training while a judge in 1997 and mediated hundreds of cases for the state for 13 years. When she retired from the bench in 2010 to join Moore, Clarke, DuVall & Rodgers to help open the firm's Savannah office, she began mediating cases in the private sector while defending clients in civil litigation for the firm.
After practicing law for more than 22 years specializing in insurance defense litigation, including personal injury and workers' compensation, with an additional 16 years as an Administrative Law Judge for the Georgia State Board of Workers' Compensation in Savannah, she decided to retire from her law practice to become a full-time mediator for Miles Mediation & Arbitration.
"I'm thrilled Leesa has decided to join our panel in Savannah," says John Miles, CEO of Miles Mediation & Arbitration. "We continue to look for opportunities to expand our panel of talented neutrals. She is a well-respected attorney and has been mediating since 1997. She will be a great asset to our Savannah team."
Over the past 11 years, Leesa found a mixed practice of litigation and mediation to be very rewarding. However, her mediation experience has recently become more personally fulfilling than litigation – perhaps because it is rewarding and challenging to assist parties in working out a resolution for their issues instead of leaving it up to strangers. She has felt privileged to work with opposing parties toward a solution satisfactory to everyone involved without going into a courtroom. This realization led to her decision to give up the practice of law and focus solely on serving as a mediator.
"I joined Miles Mediation & Arbitration because they have an excellent team with great facilities right here in my hometown of Savannah," Leesa said.
ABOUT MILES MEDIATION & ARBITRATION
Miles Mediation & Arbitration is shaping the future of alternative dispute resolution (ADR) with our comprehensive professional services model that combines the expertise of our highly skilled and diverse panel of neutrals combined with an unparalleled level of client support in order to guide and empower parties to fair, timely and cost-effective resolution regardless of case size, specialization or complexity. For more information, please call 888-305-3553.