Mariam is getting Married
Mon, Jul 21st, 2014 | by Miles Mediation and Arbitration | Get to Know our Neutrals | Social Share
By Jamie Miles
Mariam Palacios is often the first face greeting visitors to Miles Mediation. Since 2012, she has been busy with her job and also planning her destination wedding. Recently I caught up with the vivacious, raven-haired scheduling coordinator and learned a bit about her responsibilities at Miles, her Puerto Rican heritage and the dress that made her say "yes."
What is your position with the Miles Mediation team?
"I am the scheduling coordinator and send out all the documentation: the what, when, where and why. If things need to be changed or rescheduled with the parties – I handle all that."
What do you enjoy about your job?
"I love interaction with people. It's interesting to meet the clients and attorneys. Especially since so much of business communication is through email, I can put a face with a name."
She enjoys getting to know the regular customers and catering to their likes, such as a favorite room to mediate. "I know what people like and don't like. Getting to know people that way. I like that part definitely."

Born and raised in Puerto Rico, Mariam's mother and grandmother and other family still live on the island nation. Living in Puerto Rico until high school graduation, Mariam went to college in Indiana at Indiana Wesleyan University, a private school an hour north of Indianapolis. She never had stepped foot on campus till the start of her freshman year. "I submitted the forms and was accepted. I was like, 'I'm out of here.'"
What did you think of America's Heartland after knowing nothing but life on a tropical island?
"Culture shock. As a Hispanic person, I was like the super minority."
Mariam quickly added that those were the best four years of her life. "I made the best of friends. I had the best experiences. I traveled a bit between states. I'd never been to Chicago or Ohio before."
Mariam laughed how it is possible to drive the island of Puerto Rico in one day. "Going from that to driving 30 minutes to the nearest mall – I was like 'what?'"
"All there is corn and farms, but the Midwest will always have a special place in my heart."
How did you get to Atlanta?
The summer before my senior year of college, I had to do an internship for my communications major. I had applied to a few television stations in Indiana and Puerto Rico and I hadn't heard back from them. My mom found out online that the Fox station in Atlanta had an internship program. It was one of the last ones I applied for and I got it.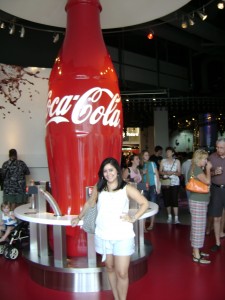 My dad came with me to get settled because he went to school at Georgia Tech. That's the summer I met my fiancé Danny." Mariam's soon-to-be-husband, Danny Palaicos was born in Puerto Rico as well but moved to Georgia when he was very young.
Do you missing living in Puerto Rico?
"I'm trying to get my mom and brother to move here," she said with a laugh.
"One day I would like to live close to the beach. I want to hop in the car and in 10 minutes be at the beach."
How do you stay connected to Puerto Rico?
I like to cook and I consider myself a pretty okay cook. But I'm still working on my Puerto Rican cuisine. I could never do it like my mom or grandma does." If she has a craving for a native dish, she'll call her future mother-in-law and ask, "Mom. Can you cook for me please?'
Mariam also misses the Christmases in Puerto Rico. "The traditions are different. It's very colorful. The Christmas carols have more of a salsa, tropical sound. And the tradition holiday food is a roast pig, beans and rice."
Interests and hobbies.
"I do like to cook. I love to bake. Because I'm trying to slim down for the wedding, I haven't been baking as much as I ordinarily would," she laughed.
Mariam and Danny share a love of movies or just hanging out and watching television. And occasionally the dance floor calls and the couple goes salsa dancing.
"When I was younger and agile (laughter), I took dance from three years old till I went away to college. I've been toying with the idea taking an adult jazz or hip hop class."
After a year of planning, Mariam and Danny are getting married in Puerto Rico on July 26.
Though her anticipation grows as the big day nears, she is also aware of the mounting tension. "
"I'm definitely excited but . . . this needs to be over," Mariam admitted with a laugh.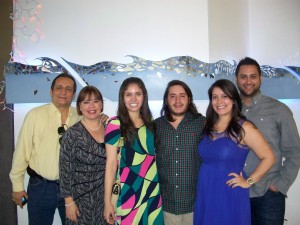 Wedding preparations took longer than expected as a result of the unexpected, very sad passing of her beloved father last year. "After my dad passed away — I was like – no way. What wedding? It pretty much rocked my entire universe. I didn't want anything."
"But it's funny. The one person who would have been excited all the time and who would have wanted bigger and better would have been my dad. My dad was a free spirit, which is where I'm sure I get it. He'd be like "WooHoo," let's have a party."
Mariam agreed with her dad's philosophy when planning. "Especially when you ask people to travel like this, I want them to have a good time. And have the event be a big party. I'm excited."
On the big day, Mariam's brother will have the honor of walking her down the aisle.
The wedding dress.
Mariam wanted to shop for the dress with her mother, but with her mother in Puerto Rico, she needed a back up plan. Her best friend flew in and the two went back to the boutique the pair had found the friend's wedding dress.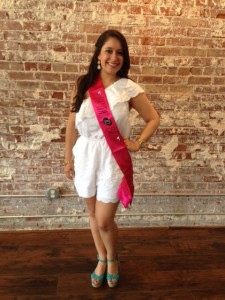 As the search began, Mariam had an idea what she wanted and of a budget. "I tried on five dresses and it was number 5. I took pictures and my face kept getting happier and happier. When I tried on the last dress, I was like – yep. This is it."
"Just like the wedding dress T.V. shows, I laughed. I cried and thought I'm really getting ready to spend all this money?"
After the ceremony, the newlyweds are honeymooning in the Dominican Republic staying at an all-inclusive resort. After a more than a year of planning her nuptials, Mariam sighed, "I'm excited to be on the beach and do nothing."
We all wish Mariam and Danny, the wedding of their dreams and look forward to posting pictures of the festivities soon.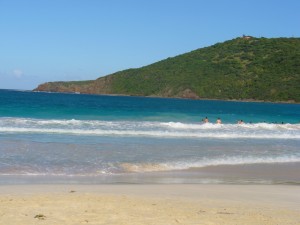 An easy Puerto Rican dish is one of the couple's favorites. "It's what you'd call a peasant dish but Danny really likes it and I make it all the time. The flavor is Puerto Rico. "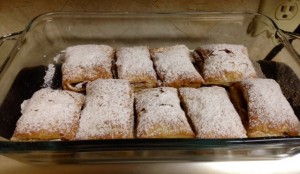 "Pastelillos de Guayaba" (Guava filled Pastry)
Ingredients:
* 1 or 2 Sheet of Puff Pastry (at room temperature) (if you make 2 sheets, you will have about 24)
* Cooking Spray or Butter
* Guava Paste (you can find it in Hispanic/Latin food section at grocery store)
* Powdered Sugar
Instructions:
* Preheat the oven to 400 degrees.
* Place puff pastry in a lightly greased cookie sheet.
* Cut puff pastry into 12 even-sized squares. You can make them bigger if you like, so you will end up with about 8 squares.
* Place puff pastry in the oven and bake for about 15-18 minutes or until they are puffed up and golden brown. (Depending on your oven, they may be done baking sooner, so just keep an eye on them)
* While they bake, take the guava paste and cut out about half of it. (Use half if you only baked 1 sheet, if you baked 2 sheets, then use all of it)
* Cut the paste into smaller pieces (so it melts faster) and place it in a microwave-safe bowl.
* Microwave the paste for about 1 minute or until the paste melts and turns more into a purée.
Take puff pastry out of the oven and let them cool down.
Once cooled, take a pastry and carefully open it in half with your hands. Then spoon some of the guava paste on to one side of the pastry and then place the other half on top.
Repeat that process until all of the pastries are filled.
To finish, sprinkle as much or as little powdered sugar on top as you want.