Miles Mediation & Arbitration Acquires St. Louis-based United States Arbitration & Mediation
Thu, Nov 9th, 2023 | by Miles Mediation and Arbitration | Press Releases | Social Share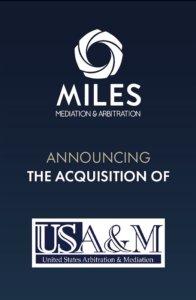 ATLANTA, GA/November 10, 2023 – Miles Mediation & Arbitration (Miles), the largest alternative dispute resolution (ADR) provider in the Southeast, is pleased to announce that it has acquired United States Arbitration & Mediation (USA&M), the premier ADR provider in the Midwest.
"We're very excited to welcome USA&M to Miles," says Parag Shah, Miles' CEO. "USA&M is known for its exceptional client experience, bolstered by a panel of experienced mediators and arbitrators, and a strong focus on customer service. This union brings together two client-centric, leading ADR providers with the goal of continuing to deliver value to the clients of both companies by expanding the ADR options we offer them."
Miles was founded in 2000 and has seven offices throughout the Southeast, including Atlanta, Charlotte, Columbia, Jacksonville, Nashville, Savannah, and Tampa. The company combines the expertise of its highly skilled and diverse panel of ADR professionals with an unparalleled level of client support to guide and empower parties to fair, timely, and cost-effective resolution regardless of case size, specialization, or complexity.
"Joining Miles provides USA&M with an exciting opportunity to streamline our case scheduling process and to offer technological enhancements that will improve our client experience," says mediator and arbitrator Rob Litz, president of USA&M. "We will continue to provide the outstanding level of service our clients have come to expect, and our clients, neutrals, and staff can expect continuity as we expand and grow. We have always provided experienced neutrals who are skilled at resolving conflict, and we will continue to do so."
To maintain that continuity, Litz will remain in his role as president of USA&M, and the company will still do business under the same name.
USA&M was founded in 1985 and has been providing mediation services throughout Missouri and Illinois and administering arbitrations throughout the U.S. from its St. Louis, Missouri office since then. The company's neutrals are seasoned professionals who receive regular advanced training to keep up with ADR and legal trends, and the USA&M staff provides the highest level of client support and service at its state-of-the-art office.
"The day-to-day operations of USA&M will not change. From the outside, it's business as usual for our clients and our neutrals," says Litz. "But joining our companies will allow our neutrals to network with each other, enhance the suite of services we provide our clients, and make our processes more efficient. It's a great opportunity for both companies."
Shah agrees. "We're excited about expanding into the Midwest," he says. "Our companies' cultures are a natural fit, and we believe this move will bring lasting benefits to the neutrals, employees, and clients of both organizations."
For more information, please contact Parag Shah, CEO at Miles, at 888-305-3553 or pshah@milesadr.com or Rob Litz, mediator/arbitrator, and president of USA&M, at 314-231-4642 or RLitz@usam.com.