Spotlight: Cade Parian
Wed, Sep 6th, 2023 | by Miles Mediation and Arbitration | Get to Know our Neutrals | Social Share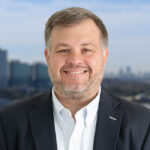 Cade Parian didn't launch his legal career intending to become a mediator. But it seems like he was destined to become one.
"One of my mentors, Tommy Greer, was a longtime mediator and was always trying to talk me into mediation," says Cade. "I would tell him, 'I like being a trial lawyer.'" After he passed away tragically, Cade started thinking about things he said, and had a couple of other lawyers say, "you should look into mediation — you'd be good at it." Cade started mediating cases, and in 2022, Parag Shah, Miles' CEO, called to invite him to join the company.
He has quickly built up a busy mediation practice. "I came out of the gates real hot," he says with a laugh. He attributes some of his success to networking and being involved with trial lawyer associations on a local and national level. He also mediated cases through ADR On Demand, which helped him quickly build his practice.
While he maintains a law practice, he loves mediating. "It's geared toward my skill set," he says. "I grew up in and around politics, and mediation is a lot like politics — shaking hands and kissing babies."
Cade has worked as both a defense and plaintiff's lawyer. He started off doing corporate defense, handling cases including high-value corporate disputes, before switching gears to become a plaintiff's lawyer. "I'm a performer. I love trying cases," says Cade. "I love talking to people … I've always been described as gregarious. My ability to read a room and relate to pretty much anybody give me a unique skill set for mediation."
But he's not all about work. In his free time, he is the radio play-by-play voice of Carrollton Trojans and West Georgia Wolves football. "I'm just good at talking," says Cade. "If you need proof, ask my mom for my school report cards. They are documented proof."
Cade is the husband of Kasin, a registered nurse, and dad to three kids — 17-year-old Beckham, 11-year-old Quinn, and 3-month-old Bennett. "This little guy is a plot twist," says Cade with a laugh. "He's only 14 weeks old and he's already been on more airplanes than I did in my first 20 years of life."
Cade is also a dedicated hiker who takes two or three hiking trips every year, often in far-flung locales. His next trip is one will be in the Italian Alps. "I love putting one foot in front of the other and seeing things you can only see by hiking to them," says Cade.
Finally, Cade is a car racing fanatic. "I love watching things go fast whether NASCAR, Formula One, or a lawnmower race," says Cade. NASCAR roots run deep in his family. His grandfather was involved in the early financing of NASCAR tracks. His wife's father? You guessed it. A former race car driver.
Cade Parian's mediation style can be summed up in the three hobbies above. He's going to talk a lot; he's going to guide the parties like he is leading a hike; and he's going to move quickly like a race car to make the process efficient.
ABOUT MILES MEDIATION & ARBITRATION
Miles Mediation & Arbitration is shaping the alternative dispute resolution (ADR) industry with our comprehensive professional services model that combines the expertise of our highly skilled, diverse panel of neutral with an unparalleled level of client support to guide and empower parties to fair, timely, and cost-effective resolution regardless of case size, specialization, or complexity. For more information, please call 888-305-3553 or email support@milesadr.com.