Spotlight on Savannah Neutral Leesa Bohler
Thu, Jul 7th, 2022 | by Miles Mediation and Arbitration | Get to Know our Neutrals | Social Share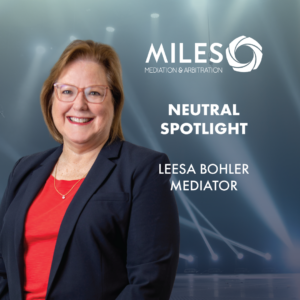 Leesa Bohler brings a unique perspective to her role as a neutral. In her years as a practicing attorney, she has been a defense attorney, and a plaintiff's attorney. She has also served as a judge.
As she explains, "One of the things that is different about me is that I have mediated as a judge – serving as a mediator. I have mediated as a defense attorney. I have attended mediations where I was the plaintiff's attorney or the claimant's attorney. So I've seen all sides. I think that brings a very unique perspective to my mediation abilities."
Although not a native, Leesa has spent most of her life in the historic city of Savannah. She attended Armstrong State College in Savannah and graduated with a degree in Political Science, before heading to Mercer University for law school. Her entire professional life has been spent in Savannah and she served as president of the Savannah Bar Association from 2019 – 2020.
Leesa came to mediation in a much different way than most of our neutrals. After practicing law for 11 years, she became an administrative law judge, in 1994. During her term as a judge, the Georgia State Board of Worker's Comp provided mediation training and the judges started mediating other judges' cases. The judges couldn't mediate their own cases because things learned in mediation might not be admissible in court.
That mediation training proved valuable even after she left the bench. Leesa was able to use her experience as a mediator when she went back into private practice. She handled hundreds of cases for the state and then returned to the practice of law in 2010.
Since December of 2021, Leesa has been a full-time neutral at Miles, specializing in mediating personal injury, employment, and workers' comp cases. She is a registered mediator through the Georgia Office of Dispute Resolution, which is required for some court-ordered mediations.
"My favorite cases to mediate are personal injury claims where the parties have agreed on liability but they're fighting about damages. Those are the most challenging to mediate but they're also the most rewarding when you get it done. Everyone agrees on the facts, but they just can't agree on the value of the case. Although those cases can be difficult, I enjoy the challenge," Leesa explains.
It's not always smooth sailing when parties are ordered to mediate. As Leesa explains, "Court-ordered mediations may be more difficult because the participants are not there voluntarily, but a good attorney will have prepared them for the fact that they are required to mediate so might as well make the best of it. The court's not going to let you go to a jury until you've tried to resolve your case through mediation."
When she isn't mediating at Miles, Leesa stays busy leading the choir at her church [Garden City United Methodist Church], spending time with her five grandchildren, and lending a hand to two nonprofits, the Susan G. Komen Foundation and a local group called JUST – Justice Unites Savannah Together.
ABOUT MILES MEDIATION & ARBITRATION
Miles Mediation & Arbitration is shaping the future of alternative dispute resolution (ADR) with our comprehensive professional services model that combines the expertise of our highly skilled and diverse panel of neutrals combined with an unparalleled level of client support in order to guide and empower parties to fair, timely and cost-effective resolution regardless of case size, specialization or complexity. For more information, please call 888-305-3553.