Spotlight on Tanya Tate
Mon, Jun 5th, 2023 | by Miles Mediation and Arbitration | Get to Know our Neutrals | Social Share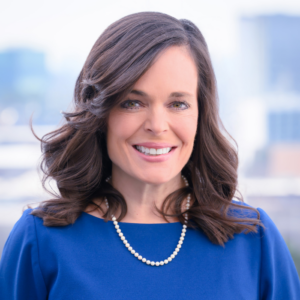 A talented mediator is by nature a skilled communicator — someone who can listen to the parties and their attorneys, and who can communicate information in a way that helps creates consensus and lessen conflict, with a goal of reaching settlement. As an only child, Tanya Tate started mastering those communication skills at a young age, and today, as a mediator, she uses them every day.
Destined to Mediate
Tanya's childhood may have set the stage for her interest in a career where communication skills are paramount. "Being an only child forced me interact with adults my entire life and generate conversation," says Tanya. "My mom was an only child, and my grandfather was an only child, and I was almost always the only kid at get-togethers. If I wanted to be entertained on vacations or holidays, I had to initiate conversation. And I did —nonstop —often to the chagrin of my parents. My communication skills ultimately earned me the highly sought-after high school accolade of 'Most Talkative.'"
Serendipity may have also played a role as Tanya worked with noted mediator Rex Smith at an Atlanta law firm early in her career. "Rex has been my mediation mentor," says Tanya. "We litigated together for a while, and kept in touch over the years, often having breakfast together to discuss my development as a mediator." That relationship helped spur her interest in mediating full-time, which she ultimately began doing approximately ten years ago.
Listening Matters
It's not only being able to share information that is critical for mediators, but also listening with intention, she says. "Listening, and being empathetic, and really trying to understand where people are coming from, especially in employment and business cases, is critical," says Tanya. "It may not be the specific legal claim, but instead a specific emotion, that needs to be better understood."
The employment-related cases Tanya often mediates are frequently laden with emotion. "Losing a job can be one of the top three most stressful things in a person's life," she says. "Regardless of where people are in their careers and the reasons for their respective separations, there is almost always going to be significant emotion involved in the process. And on the flip side, employers are often upset about the circumstances that have brought them to the mediation table.
"Employment cases, and often business litigation matters, have the potential to consume the parties," she continues. "For the individual, it can impede his or her ability to move forward. For the employer or company, it often distracts from the operation of the business which has its own plethora of adverse consequences. For both sides, it requires the expenditure of both mental and monetary capital that undoubtedly has better and more productive uses. "
A Sense of Taste
When Tanya is not working, she enjoys spending time with her family. She and her husband, Tom, have a blended family of six children, ages 22 through 36. She's also an avid traveler and wine enthusiast.
"I love traveling everywhere and some might say I am a little obsessed with wine," she says. In fact, she just completed the Court of Master Sommeliers Americas Introductory Sommelier Course which includes a two-day intensive course covering everything from deductive tasting to wine history to wine regions, grape varietals, and production methods.
While plenty of people know a lot about wine — or claim they do — only 273 people in the world hold the highest designation, Master Sommelier, three of whom taught this course.  While nothing anywhere close to the Master Sommelier exam, passing the test for the Level I designation is far from easy. Candidates begin studying months before the course and to pass the test, the student must "know the world wine regions, what grape varietals and wines those regions are known for, and the various winemaking techniques" she says.
"We spent the most time focused on French, Italian, Spanish and other Old World wines, with New World wines from the U.S., Australia and New Zealand receiving less focus," says Tanya. "It was somewhat reminiscent of law school as far as the volume of information provided and the short amount of time available to process and learn the material —not to mention tasting over 30 wines." (Would-be sommeliers, or "somms," use spit buckets while tasting to keep from becoming inebriated while tasting.)
Tanya is fascinated by the history behind winemaking. "Every winery has a story. The ones in Spain and France go back hundreds of years," she says. "You learn about so many things — you learn about geology, weather, and the science behind the wine. It's really fascinating." Along the way, she discovered her favorite wine (so far). "When we went to Argentina, I fell in love with Malbec — that's now my go-to," she says. She's planning a trip to the Piedmont region of Italy this summer; before that, she's heading to Virginia for a wedding, with a few winery visits included for good measure.
But it's not all work and play for Tanya. She's also passionate about giving back to her community. Every year she organizes a fundraiser to raise money for The New England Parkinson's Ride (a Michael J. Fox Foundation event), with many of her family and friends participating.
This September, Tanya and Tom will participate in the ride again, this time tackling the 70-mile ride in Maine. The fundraising efforts and rides are all done by team "Stormin' for Norman" to honor Tanya's dad (Norman) who was diagnosed with Parkinson's disease seven years ago. "We've raised more than $100,000 over the last years," says Tanya, "and have been invited, multiple times, to New York City for the Michael J. Fox VIP event that recognizes the top fundraisers."
Her success fundraising for this important charity is evidence of the fact that when she commits to something, she gives her all — to the benefit of her family, her colleagues, and her mediation clients as well.
ABOUT MILES MEDIATION & ARBITRATION
Miles Mediation & Arbitration is shaping the alternative dispute resolution (ADR) industry with our comprehensive professional services model that combines the expertise of our highly skilled, diverse panel of neutral with an unparalleled level of client support to guide and empower parties to fair, timely, and cost-effective resolution regardless of case size, specialization, or complexity. For more information, please call 888-305-3553 or email support@milesadr.com.