Barry Howard Joins Miles Mediation & Arbitration's Nashville Panel
Tue, Jun 15th, 2021 | by Miles Mediation and Arbitration | Press Releases | Social Share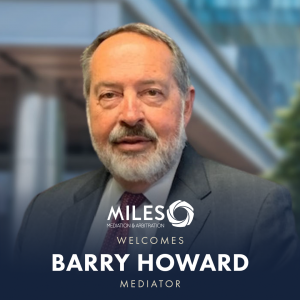 NASHVILLE, June 15, 2021 –  Miles Mediation & Arbitration, the largest ADR provider in the Southeast, is proud to announce the addition of Barry Howard to its panel in Nashville. Barry has mediated personal injury, professional liability, medical malpractice, civil rights, employment disputes, construction defects and injury, wrongful death, and commercial disputes. The commercial disputes include multi-million dollar equipment lease cases, breach of contract, transportation contracts, financial institution consumer transaction disputes, and mortgage/wrongful foreclosure cases.
Professional liability mediations have been conducted in the fields of attorney malpractice, real estate agent E&O, insurance agent E&O, and accountant professional liability.
"I'm thrilled that Barry has decided to join our panel," said John Miles, CEO of Miles Mediation & Arbitration. "Barry's wealth of experience coupled with the first-class customer experience that Miles provides is a win-win for Nashville clients."
Since establishing his mediation practice, Barry has mediated over 2,200 cases. He is also proficient in video mediations having conducted over 200 mediations utilizing Zoom.
"I joined Miles because I was impressed with their commitment to support me as a mediator so that my clients get the best possible experience and successful resolution of their case, Howard says. "Miles brings a unique mediation experience to Middle Tennessee and I am excited to be a part of this organization."
ABOUT MILES MEDIATION & ARBITRATION
Miles Mediation & Arbitration, headquartered in Atlanta, is an award-winning alternative dispute resolution (ADR) firm. The firm specializes in mediation, arbitration, special master, and all forms of dispute management and is known for its exceptional client service and reputation of delivering successful results. The firm handles all case sizes and types, including complex, multi-party disputes in areas of business, finance, construction, medical negligence, personal injury, wrongful death, trucking, real estate, insurance coverage, fiduciary, estate and probate, and premises liability. For more information, please call 888-305-3553.