Drew Lewis Joins Miles Mediation & Arbitration in Tampa
Wed, Mar 9th, 2022 | by Miles Mediation and Arbitration | Press Releases | Social Share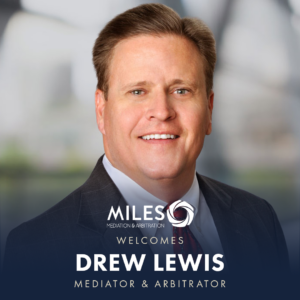 TAMPA, March 9, 2022 –  Miles Mediation & Arbitration, the fastest growing ADR provider in the Southeast, is proud to announce the addition of Drew Lewis to its panel in Tampa. Drew has been a civil litigator in the Tampa area for over 28 years and serves as a Florida Supreme Court Certified Circuit and County Court Mediator. Lewis is also a partner in the Tampa office of Quintairos, Prieto, Wood & Boyer, P.A.
He focuses his practice in the areas of insurance defense, insurance coverage and bad faith litigation, automobile liability claims, toxic torts, and first party and third party property and casualty claims. Mr. Lewis is a frequent presenter and speaker at numerous insurance claims seminars.
"I'm very excited to have Drew join our panel," says John Miles, CEO of Miles Mediation & Arbitration. "Drew is a talented mediator and arbitrator and a great addition to the Tampa team."
Previously, Drew was a partner with a civil litigation law firm in Tampa; he has focused his practice throughout west-central Florida in the defense of personal and commercial litigation, bad faith claims, and in matters involving the representation of insurance carriers and their insureds, as well as self-insureds.
ABOUT MILES MEDIATION & ARBITRATION
Miles Mediation & Arbitration is shaping the future of alternative dispute resolution (ADR) with our comprehensive professional services model that combines the expertise of our highly skilled and diverse panel of neutrals combined with an unparalleled level of client support in order to guide and empower parties to fair, timely and cost-effective resolution regardless of case size, specialization or complexity. For more information, please call 888-305-3553.