Gary W. Nicholson Joins Miles Mediation & Arbitration's Tampa Panel
Tue, Jan 4th, 2022 | by Miles Mediation and Arbitration | Press Releases | Social Share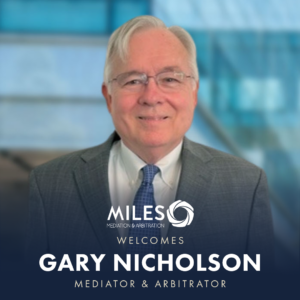 TAMPA, January 4, 2022 –  Miles Mediation & Arbitration, the fastest growing ADR provider in the Southeast, is proud to announce the addition of Gary W. Nicholson to its panel in Tampa. Gary Nicholson is a seasoned civil litigator with extensive experience in all types of civil law practice with a concentration in insurance defense work. He has appeared in many of the Circuit Courts of Florida, as well as before the Florida and Federal Appeals Courts.
Since becoming a Certified Mediator in 2012 he has mediated hundreds of matters, large and small, simple and complex, few parties and many.  The primary area of his mediation practice is in the first and third-party insurance arena but also includes general business/corporate matters, homeowners' associations, employment law, and other civil law cases, litigated and non-litigated.
"I'm very excited to have Gary join our panel in Tampa," says John Miles, CEO of Miles Mediation & Arbitration. "He is an excellent litigator and mediator and will be a great asset to our team."
Gary's ligation experience (100 cases tried to jury verdict) gives him a unique insight into the issues before the parties' positions at mediation.
"I chose to become a "Miles Mediator," to not only expand the scope of my own Mediation/Arbitration practice, but to also join in Miles Mediation's ambitious plans to expand in Tampa Bay, Florida and the Southeast," Gary stated. "The Mediators/Arbitrators at Miles are all highly qualified, expertly skilled, and supported by an excellent support "team." I am truly honored to have been invited to unite my practice with the "Miles Family."
ABOUT MILES MEDIATION & ARBITRATION
Miles Mediation & Arbitration is shaping the future of alternative dispute resolution (ADR) with our comprehensive professional services model that combines the expertise of our highly skilled and diverse panel of neutrals combined with an unparalleled level of client support in order to guide and empower parties to fair, timely and cost-effective resolution regardless of case size, specialization or complexity. For more information, please call 888-305-3553.