Hon. Tabitha Ponder Joins Miles Mediation & Arbitration in Atlanta
Thu, Jul 29th, 2021 | by Miles Mediation and Arbitration | Press Releases | Social Share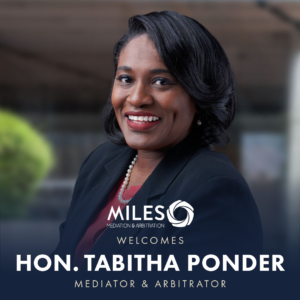 ATLANTA, July 29, 2021 –  Miles Mediation & Arbitration, the largest ADR provider in the Southeast, is proud to announce the addition of Hon. Tabitha Ponder to its panel in Atlanta. Hon. Tabitha Ponder is a part-time Cobb County Magistrate Court judge and a certified Civil/Domestic Relations Mediator and Arbitrator. She has experience with real estate, family law, complex litigation, business law, worker's comp, liability, and personal injury. She's also a Special Master for Cobb Superior Court.
"We are thrilled to have Tabitha join our Atlanta panel," says John Miles, CEO of Miles Mediation & Arbitration. "We continue to look for opportunities to expand our panel of talented neutrals. She will be a great asset to our team."
Hon. Tabitha Ponder is recognized statewide for her expertise and commitment to improving access to justice. She currently serves as the contracted Staff Attorney for the Georgia Judicial Council's Access to Justice Committee under the leadership of Justice Charlie Bethel, and she was recently appointed to staff the Judicial Council's new Ad Hoc Committee on Improving Community Access to Legal Resources. She was appointed to serve as Special Master for Cobb County Superior Court in 2017. She also previously taught as an Adjunct Professor for seven years at Albany State University.
"After litigating for nearly 20 years, I am truly excited to embark upon this next journey as a mediator," Hon. Tabitha Ponder states. "I have participated in more than 100 mediations and must say that the "Miles' experience" ranks far above other firms in this industry. I have always been impressed by Miles dedicated attention to detail, ease of scheduling, consistent professionalism, and outstanding customer care. Lastly, the impeccable panel of neutrals makes Miles an easy choice and the top ADR firm in Georgia. I am honored to join this team."
ABOUT MILES MEDIATION & ARBITRATION
Miles Mediation & Arbitration, headquartered in Atlanta, is an award-winning alternative dispute resolution (ADR) firm. The firm specializes in mediation, arbitration, special master, and all forms of dispute management and is known for its exceptional client service and reputation of delivering successful results. The firm handles all case sizes and types, including complex, multi-party disputes in areas of business, finance, construction, medical negligence, personal injury, wrongful death, trucking, real estate, insurance coverage, fiduciary, estate and probate, and premises liability. For more information, please call 888-305-3553.