Jim Shea Joins Miles Mediation & Arbitration's Tampa Panel
Mon, Feb 21st, 2022 | by Miles Mediation and Arbitration | Press Releases | Social Share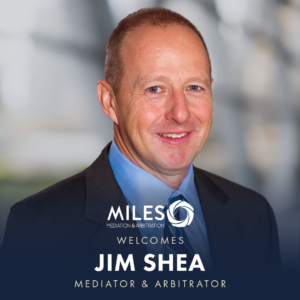 TAMPA, February 21, 2022 –  Miles Mediation & Arbitration, the fastest growing ADR provider in the Southeast, is proud to announce the addition of Jim Shea to its panel in Tampa. Jim brings over thirty years of litigation and dispute resolution experience to his mediation and arbitration practice.  This experience includes serving for over eight years as the Chief Legal Officer and Chief Risk Officer for a group of privately-owned companies. As in-house counsel, Jim was responsible for or oversaw, all legal, compliance, insurance/risk, and human resources functions.  The combination of Jim's litigation and in-house experience enables him to help parties identify their risks and creatively empower them to resolve their disputes at mediation.
"I'm very excited to have Jim join our panel," says John Miles, CEO of Miles Mediation & Arbitration. "He is a well-respected mediator and arbitrator, and will be a great asset to the Tampa team."
Jim is a Florida Supreme Court Certified Circuit Civil Mediator, Certified County Court Mediator, and an approved Alabama Dispute Resolution Center Mediator.
During the course of his career, Jim's had the benefit of representing both internal and external clients, as both plaintiffs and defendants, in a broad spectrum of practice areas including Business (MSA, SOW, SaaS, Lead-Gen, Connectivity, Affiliate Sales, Commercial Leases, Trademark, Financing, Unfair Trade Practices, Claims & Risk Transfer), Employment (EEOC, Title VII, FLSA, FMLA, ADA, PAGA, retaliation, WARN, Employee Handbooks, Contracts, Non-Competes, and Severance), Construction (Construction Defect, Contracts, Subcontracts, Johnson v Davis, OSHA, Liens, Bonds, & Subrogation), Insurance (Policies, Coverage Disputes, and First Party Claims – Hurricane/Flood/Water/Fire), and Torts (professional negligence, negligence, and premises liability).
Jim stated, "I have known and respected a number of the Miles panel members for years and am very excited to have the opportunity to join such an esteemed panel of mediators and arbitrators as Miles expands its coverage in Florida and the Southeast."
ABOUT MILES MEDIATION & ARBITRATION
Miles Mediation & Arbitration is shaping the future of alternative dispute resolution (ADR) with our comprehensive professional services model that combines the expertise of our highly skilled and diverse panel of neutrals combined with an unparalleled level of client support in order to guide and empower parties to fair, timely and cost-effective resolution regardless of case size, specialization or complexity. For more information, please call 888-305-3553.