Reading the Room: Spotlight on Marci Joel
Wed, Dec 7th, 2022 | by Miles Mediation and Arbitration | Get to Know our Neutrals | Social Share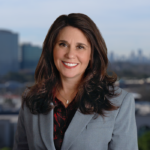 Whether mediating business disputes or playing poker, Marci Joel has learned to pay close attention to the people around her; to assess and measure risk; and to know whether it's the right time to make a move. Marci's combined legal background and her experience as a business owner give her a unique background that has well-prepared her for her work as a mediator in the Atlanta area.
In 2004, as interest in mediation was picking up in the California area, the L.A. Superior Court offered a pilot program to help train young mediators. Marci was immediately on board. "The LA superior court was paying for the training through the Pepperdine Straus Institute for Dispute Resolution. Once trained, you were required to do a certain number of pro bono cases per year," says Marci. "I thought it was an amazing opportunity. I had mediated many cases as an attorney, and I liked the idea of being part of the solution."
"With mediation, you can be an advocate without putting your gloves on," she continues. "You don't always have to fight. It's not about if you have the best case or legal argument. It is more about finding creative solutions, compromise and counseling your client as to what is best for them, which may be settlement, even if you could win more in court. If it doesn't work, you can turn around and put the gloves back on and fight it out. With mediation, I felt like I was advocating for my clients in a more productive manner." After the training, she mediated cases through the L.A. Superior Court, and eventually decided she'd like to mediate full time.
Mediating as a Business Owner 
That plan was shelved for a little while. After Marci and her family moved to Atlanta, she and her husband bought and owned a business with over 30 employees. "We built custom-built upholstered furniture and window treatments for designers and the design industry," she says. "It was very high end — we worked with internationally acclaimed designers, including designers for Jon Bon Jovi, Elton John and Tyler Perry. We reupholstered the entire Fox Theater, worked on projects for the St. Regis, IHG, Indigo Hotel and custom built the banquettes for the Chairman's Club at Turner Field."
However, Marci's work as a business owner only improved her mediation skills.  "My mediation skills were used on a daily basis. Anyone who's ever owned a business, especially with their spouse, will tell you that you're doing a lot of mediating!" she says with a laugh.
Eventually, she decided to go back to her passion — mediation. She is barred in both Georgia and California and became a Georgia Registered Neutral and Arbitrator for Civil and Domestic cases.
When practicing law in California, Marci primarily worked with sports and recreation and entertainment clients, handling cases ranging from business litigation, copyright, contracts, Anti-Slapp, premises liability, products liability and employment issues. She also practiced in insurance and legal malpractice defense. "I'm sort of a jack-of-all-trades, but I'd like to continue working in entertainment law, especially as entertainment continues to be an up-and-coming industry in Atlanta," she says. "As a business owner and a former litigator, my real-life experience gives me a unique perspective as a mediator, especially in business matters."
Playing the Hand That's Dealt Her
Marci has three teenagers at home but makes time for some of her favorite activities. She's a hard-core football fan, rooting for both college and pro teams. "For college, it's USC [University of Southern California]. I'm a Trojan through and through — I bleed cardinal and gold [the team's colors]," she says. My brother went to UCLA, so that makes Thanksgiving interesting because the USC/UCLA crosstown rivalry game is always right before the holiday, so someone is always at the winner's table, and someone is at the loser's table."
But at the poker table, Marci doesn't lose very often. She's one of only two women in her poker group. "I love playing Texas Hold 'em. I play in a group of 28," she says. "We play tournament-style all year round and the top three players get sent to Vegas to represent the group." She's been lucky enough to represent the group several times in Vegas, most recently last year after placing first in her group and has the respect of the guys in her group.
Marci grew up playing cards with her family and developed her love for poker early on. "Poker is very strategic," she says. "It's about reading the room, reading the players, reading the cards … it's gambling, and knowing the right time to take the chance and go all-in — or in the famous words of Kenny Rogers, knowing when to fold." Sometimes you have to have the self-control to lay down what you think should be a winning hand, and then be able to bounce back."
Of course, there are some differences between poker and mediation. In poker, the goal is to win. In mediation, the goal is to help the parties settle the case. But whether she's at the poker table or mediation table, Marci's experience, skill, and wisdom help her get the job done.
ABOUT MILES MEDIATION & ARBITRATION
Miles Mediation & Arbitration is shaping the alternative dispute resolution (ADR) industry with our comprehensive professional services model that combines the expertise of our highly-skilled and diverse panel of neutrals combined with an unparalleled level of client support in order to guide and empower parties to a fair, timely and cost-effective resolution regardless of case size, specialization, or complexity. For more information, call 888-305-3553.