Marci Joel Joins the Miles Mediation & Arbitration Panel in Atlanta
Tue, May 24th, 2022 | by Miles Mediation and Arbitration | Press Releases | Social Share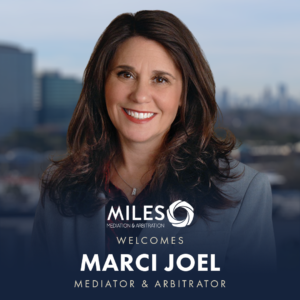 ATLANTA, GA, May 24, 2022  – Miles Mediation & Arbitration, the fastest growing ADR provider in the Southeast, is pleased to announce that attorney Marci Joel has joined its panel in Atlanta. Marci has been a busy litigation attorney and mediator for more than fifteen years.
"Marci makes a great addition to the Miles family, and we are delighted to welcome her," says John Miles, CEO of Miles Mediation & Arbitration. "She has extensive experience as both a courtroom attorney and a mediator, and she will be a terrific addition to our panel."
"I am honored to be joining the impressive and distinguished panel of neutrals at Miles. With expanding offices and a dedicated full-time staff, Miles sets the standard for service and accessibility. I am passionate about mediation and helping attorneys and their clients find resolution outside of the courtroom. Being part of the "Miles Family" will allow me to focus on mediating and growing my practice," Marci explains.
Originally from California, Marci attended the University of Southern California for both undergraduate and law school and began practicing law in 1997. Marci has spent her legal career litigating in a variety of practice areas including entertainment, product liability, coverage, legal malpractice, contracts, and general civil litigation.
Marci's career in Alternative Dispute Resolution began in 2004 when she took part in the Los Angeles Superior Court ADR pilot program. She trained with the Pepperdine Strauss Institute for Dispute Resolution and began her mediation practice in California. After moving to Georgia, she continued her education and training in alternative dispute resolution.  She is a Georgia Registered Neutral and Arbitrator for Civil and Domestic cases.
Marci realized that being a mediator was more than simply a job. After a while, "Alternative Dispute Resolution became a calling.  I realized I would be more successful and fulfilled by pursuing a career in ADR and helping people find solutions to their disputes," she says.
Marci's desire to help clients mediate grew out of her first career, as a litigator. "After many years in the courtroom, I came to realize that litigation is not always in the best interest of the clients.  Litigation is draining, with no guarantee of the outcome.  Alternative Dispute Resolution and mediation allows clients their "day in court" while affording them an actual say in the cost, outcome and settlement of their case," she explains.
In addition to her mediation career, Marci is also active in her community volunteering in various organizations and currently sitting on the Board of Directors of the ALEF Fund through the Jewish Federation of Atlanta. When she isn't working Marci is a busy married mom of three active children and three furkids, Dexter, Tigger and Thor. She also enjoys scuba diving, poker, and is an avid sports fan cheering on the USC Trojans or the Atlanta Falcons.
ABOUT MILES MEDIATION & ARBITRATION
Miles Mediation & Arbitration is shaping the future of alternative dispute resolution (ADR) with our comprehensive professional services model that combines the expertise of our highly skilled and diverse panel of neutrals combined with an unparalleled level of client support in order to guide and empower parties to fair, timely and cost-effective resolution regardless of case size, specialization or complexity. For more information, please call 888-305-3553.