Michael Russell and Winter Wheeler join the Tennessee Bar Association's 2021 Dispute Resolution Forum as Speakers
Thu, Oct 28th, 2021 | by Miles Mediation and Arbitration | News | Social Share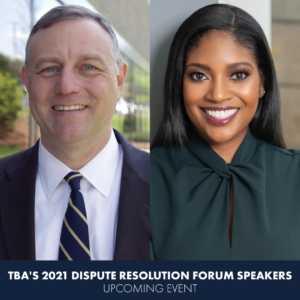 Miles mediators and arbitrators Michael Russell and Winter Wheeler join the Tennessee Bar Association's 2021 Dispute Resolution Forum as speakers. This virtual event takes place on Friday, November 5th, 2021 from 9:30 AM – 2:30 PM CT. Topics include ways to conduct successful virtual mediations and arbitrations, and a discussion of digital platforms that ensure arbitrations and mediations are secure and run smoothly. Attendees will also learn ways to avoid bias specific to arbitrators and mediators.
The Dispute Resolution Annual Forum has been carefully crafted to provide timely and practical information that will benefit both lawyers and mediators and offers attendees a program featuring accomplished professionals from the ADR vocation. Additional speakers include Adrienne Anderson with Anderson Busby in Knoxville and Larry Bridgesmith with Vanderbilt University.
The course provides one hour of dual CLE credit and three hours of general credit.
Click here for more information and registration.
ABOUT MILES MEDIATION & ARBITRATION
Miles Mediation & Arbitration is shaping the future of alternative dispute resolution (ADR) with our comprehensive professional services model that combines the expertise of our highly skilled and diverse panel of neutrals combined with an unparalleled level of client support in order to guide and empower parties to fair, timely and cost-effective resolution regardless of case size, specialization or complexity. For more information, please call 888-305-3553.