Perseverance and Perspective: A Spotlight on Atlanta Neutral Rusty Grant
Wed, Nov 9th, 2022 | by Miles Mediation and Arbitration | Get to Know our Neutrals | Social Share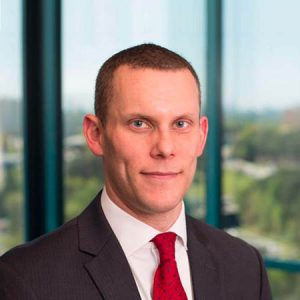 Atlanta neutral Rusty Grant found himself pulled to the practice of mediation from the time he started his law practice. After graduating from Georgia Law School, he practiced at two other law firms before joining Cruser Mitchell Novitz Sanchez Gaston & Zimet L.L.P. in 2006. There he defended and tried cases involving insurance, personal injury, premises liability, and motor vehicle accidents.
Over time, however, he noticed he possessed a tendency – or rather a subconscious urge – to recommend mediation to his clients. "As a lawyer, I felt like I was that person who could look at both sides of the case," says Rusty. "I was never so thoroughly entrenched in my case on one side that I couldn't also appreciate the other side's perspective." He began mediating at Miles Mediation & Arbitration in 2016, and after practicing for 16 years, Rusty took the leap, left his litigation practice, and began mediating full-time at Miles Mediation earlier this year.
A Dedicated Competitor
In addition to being a full-time mediator, Rusty is also a competitive triathlete. He has competed in a total of six full-distance Ironman triathlons, successfully finishing all but one, as well as a number of shorter-distance triathlons. The Ironman distances are intimidating: athletes complete a 2.4-mile open water swim, followed by a 112-mile bike ride, and a 26.2-mile run (also known as a marathon).
Rusty trained for about a year before his first Ironman in 2011. During his peak training period, he swam about three hours per week (about 10,000-12,000 meters); biked about 10 hours per week (about 160-200 miles); and ran about five hours per week (about 30-35 miles). The goal of training is to prepare your body—and your mind—for the all-day effort it will take it successfully complete an Ironman. In addition, proper nutrition and hydration help prepare you for the demands of the day.
Given his background as a collegiate swimmer and his training, he never doubted his ability to complete the 2.4-mile swim portion of the race. He was shocked when he had to bail out of the swim (the first leg) of his second Ironman.
"I nearly drowned," says Rusty. "That's not an exaggeration. I did not know this at the time, but it turns out I had a severe sinus infection and two ear infections, and the waves [in the Gulf of Mexico] were crashing, and my equilibrium got all thrown off."
Some people might have called it a day. Not Rusty. He signed up for his next race a week later, kept training, and completed that race — along with four others, including two on the same course as the one he didn't finish.
Training for Mediation
He calls that moment in the Gulf of Mexico an "impasse." "That was my impasse moment — when you have to walk away from the table," he says, drawing a comparison between his athletic pursuits and his work. He couldn't finish the race. That was out of his control. But he could, and did, decide to tackle another race. His perspective — and his perseverance — let him turn what could have been the end of his triathlon career into a valuable lesson.
Even with years of competing under his belt, he has still faced challenges while racing. "On September 25 of this year, I was participating in a half distance triathlon and had a bike crash," he says. While he didn't know it at the time, he had significant soft tissue injuries — and four broken ribs. Yet he finished the last eight miles of the bike and walked the half-marathon to the finish line.
"I wasn't able to actually run during the run portion because I was too sore, but I did finish the race," says Rusty. "My wife was there to cheer me on but didn't know what had happened. I passed her about two miles into the run and stopped to let her know I was okay. She thought I should stop and kept telling me I didn't have anything to prove. Contrary to what happened in Florida though, that wasn't an impasse moment. I knew I could still push through to the finish line. I had been preparing for that race all year and wasn't prepared to quit, despite the pain."
Rusty's perspective and perseverance have also helped him build a successful mediation career. He "trains" by spending a lot of time preparing before each mediation, and by honing his mediation skills with classes and talking with other seasoned mediators. Rusty has conducted more than 90 mediations so far this year, and all but 18 are currently settled. The secret to his success? Refusing to give up after reaching an impasse.
The Importance of Following Up
"My usual follow-up is within a couple of weeks, and usually I'll send an email to both lawyers, saying, 'Hey, is there anything I can do on this one? I think there's still some common ground,'" he says. "Now there are some that call for a little bit longer period of breathing room, and there are some where it calls for a very short period of time.
"I had one last week where we impassed, and we were close enough that within a couple of days I reached out with a mediator's proposal because it was close enough that I thought, 'we need to strike while the iron's hot,'" he adds. "There are other times where, if there's tension in the room or something like that, then I'm going to give that one more like three or four weeks before I follow up." He never fails to follow up on cases that have an impasse, recognizing that cases can, and do, settle post-mediation and before trial.
Rusty is enjoying his full-time mediation work. "Before, I steered my cases to mediation as often as I could, because I found it be the best way to resolve it," he says. "I just believe in it."
His advice to new mediators who may face such an impasse reflects his belief in rigorous training and preparation, and in the importance of not giving up. "Keep going," he says. "Keep after it. Keep training. Keep following up with the lawyers.
"A lot of cases settle at mediation — most do," he adds. "But some cases need that breathing room, that time where everyone walks away for a while. I stay in touch on those cases because my goal is to see it resolve, no matter when that happens or how long it takes. I've had cases settle weeks and months after an impasse at mediation. And that, to me, is still just as gratifying as the cases that settle on mediation day."
ABOUT MILES MEDIATION & ARBITRATION
Miles Mediation & Arbitration is shaping the alternative dispute resolution (ADR) industry with our comprehensive professional services model that combines the expertise of our highly-skilled and diverse panel of neutrals combined with an unparalleled level of client support in order to guide and empower parties to a fair, timely and cost-effective resolution regardless of case size, specialization, or complexity. For more information, call 888-305-3553.