Robert Cowles Joins Miles Mediation & Arbitration's Jacksonville Panel
Tue, Aug 17th, 2021 | by Miles Mediation and Arbitration | Press Releases | Social Share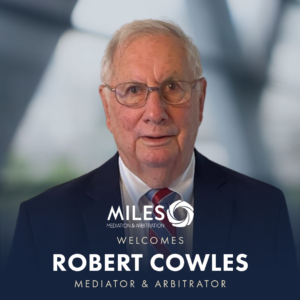 JACKSONVILLE, FL, August 17, 2021 –  Miles Mediation & Arbitration, the largest ADR provider in the Southeast, is proud to announce the addition of Robert Cowles to its panel in Jacksonville. Robert has been certified as a Circuit Court Mediator in Florida since 1991 and was active in getting the mediation program started in North Florida. He has mediated over 2,500 cases.
Cowles has also handled arbitrations for the American Arbitration Association since 1992 and has been an Arbitrator in over 350 cases including commercial cases, Lemon Law, breach of contract, business disputes, employment, construction, actuarial malpractice, fraud, maritime, and hospital/insurance disputes.
Mr. Cowles was recently an Arbitrator (Chair) in homeowners' cases (130+ homes) against a builder and subcontractors for alleged defective construction of homes which were arbitrated from 2014 to 2017.  He has arbitrated construction and nursing home cases, independent of AAA. Robert has also been an Arbitrator in twenty (20) maritime/Jones Act cases in Miami, FL, involving cruise ship workers. He is currently involved in a $10,000,000 case involving a large hospital corporation and its insurer for under-reimbursements.
"Robert Cowles is an elite mediator & arbitrator," said John Miles, CEO of Miles Mediation & Arbitration. "I couldn't be more thrilled to have him on our team. Robert's skill and expertise combined with the first-class customer experience that Miles provides will ensure the success of our Jacksonville office."
Robert has also mediated all types of cases including Commercial Litigation, Medical Malpractice, Personal Injury and Wrongful Death Litigation, and Product Liability. He has also been an Expert Witness in approximately 30 cases. Robert is also appointed as a Special Master/Magistrate in the Fourth Judicial Circuit.
"I joined Miles because I liked what I heard about the organization, and talked to numerous current Mediators and Arbitrators with Miles," Cowles stated. "I researched the group and finally decided I would like to be a part of another adventure – assisting in starting another organization here in Jacksonville. I have been working on my own since 2002 after many years with law firms I helped start."
ABOUT MILES MEDIATION & ARBITRATION
Miles Mediation & Arbitration, headquartered in Atlanta, is an award-winning alternative dispute resolution (ADR) firm. The firm specializes in mediation, arbitration, special master, and all forms of dispute management and is known for its exceptional client service and reputation of delivering successful results. The firm handles all case sizes and types, including complex, multi-party disputes in areas of business, finance, construction, medical negligence, personal injury, wrongful death, trucking, real estate, insurance coverage, fiduciary, estate and probate, and premises liability. For more information, please call 888-305-3553.