Spotlight on Employment Mediator Meredith Jeffries
Thu, Sep 8th, 2022 | by Miles Mediation and Arbitration | Get to Know our Neutrals | Social Share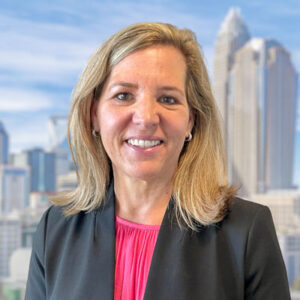 For Meredith Jeffries, a Miles Mediation & Arbitration Neutral, litigation and mediation were not always the plan.  She began her college career at the University of Virginia as a pre-med student, with her sights set on becoming a doctor. However, as her disdain for Chemistry and Biology labs grew, her passion during high school for public speaking, forensics, and debate eventually led her to switch to an English major and pursue law school post-graduation.
Meredith has been practicing law for 28 years, almost exclusively in the area of labor and employment law. Meredith loves the diversity of her practice, which affords her a combination of litigation, transactional, and counseling work. She has litigated cases involving discrimination, harassment, wage and hour disputes; and restrictive covenant /covenant not to compete disputes, and was primarily a litigator when she was with large firms. Now, as a member of the boutique firm of Alexander Ricks, she spends much of her time advising and counseling her clients, drafting HR-related documents, and providing subject matter expertise in M&A transactions.
With respect to the mediation side of her vocation, Meredith has been a certified mediator for 7 years. After representing parties in mediations with some of North Carolina's best mediators throughout her career, she was drawn to the ability an effective mediator has to make an impact that benefits all parties. "Litigation inherently has a winner and a loser; mediation allows a win-win — an amicable resolution is almost always in everyone's best interest."  Meredith believes that lawyers who view settlement as "caving" do their clients a huge disservice. Employers aren't in business to answer interrogatories and produce electronic documents, and an amicable resolution means less business disruption, money, time, and stress for all parties involved.  This doesn't mean that every case will settle, but Meredith believes that a mediator should be able to facilitate a resolution that makes sense, provided that reasonable lawyers with reasonable clients come to the mediation table.  She believes she brings to the mediation table the ability to assist the parties in seeing things from an alternate perspective, and building on that to find common ground and resolve matters in a manner where everybody is to some degree reasonably fulfilled. She explains, "it's a great feeling to be able to help people come to that closure and resolution."
Bragging rights have officially been secured! Meredith has settled 100% of the employment-related disputes she has mediated this year. She stresses that she feels fortunate that the parties and their attorneys in these cases came willing to work hard and were willing and keen on settling. Mediation should not occur until that's the case. She shared a memory of a mediation she conducted several years ago where it became apparent immediately that the employer was exclusively there by order of the court. The mediation was over before any meaningful offer was made. Meredith later learned that the case had been tried to a multi-million dollar defense verdict. One can only assume that the defendant regretted not making some effort to settle the case in mediation.
Meredith stays busy in and outside the workplace. With three children, ages 18 to 26, Meredith jokes that "working moms don't have time for hobbies."  Nonetheless, when Meredith isn't in the office, you can find her cheering for her son at the baseball fields, unwinding at their family's home on Bald Head Island, or serving her local area as a board member of the non-profit, "Loaves and Fishes/Friendship Trays,"  which provides food through food banks and home deliveries to those who cannot afford nourishing quality food.
Meredith has been a proponent of a mediated resolution throughout her career, but the events of the past year have sharpened her focus on helping parties negotiate an amicable resolution of their disputes.  Last Labor Day weekend her young adult daughter was in a near-death accident and is still recovering from a year of surgeries and setbacks. "Almost losing a child changes the lens through which you see everything," she says. Employment law disputes don't involve matters of life-or-death and spending two years battling them out in court will almost never be worth the economic and emotional toll to both parties. In both her mediation and litigation practices, she tries to focus the parties on the non-economic benefits of closure — "life is too short to spend in depositions."  Undoubtedly, she brings this perspective, and the strength and resilience that have gotten her family through the last year, into every mediation.
ABOUT MILES MEDIATION & ARBITRATION
Miles Mediation & Arbitration is shaping the alternative dispute resolution (ADR) industry with our comprehensive professional services model that combines the expertise of our highly-skilled and diverse panel of neutrals combined with an unparalleled level of client support in order to guide and empower parties to a fair, timely and cost-effective resolution regardless of case size, specialization, or complexity. For more information, call 888-305-3553.