A Podcasting Primer: What to Consider Before Launching a Podcast
Wed, May 3rd, 2023 | by Miles Mediation and Arbitration | Article | Social Share
By Steve Dunn
Listened to a podcast lately? You're not alone — according to recent statistics, six in ten adults listened to at least one podcast in 2022, and four in ten have listened to one in the last month. And there are more than 71,000,000 podcast episodes available, with about 450,000 active podcasts you can choose from.
My podcast, the Steve Dunn Podcast, started as a hobby, but it also helps promote my mediation practice. I launched it because podcasting gave me the opportunity to have conversations I wanted to have with people.
The idea behind my podcast is simple; I talk with guests about what they're passionate about, and often that relates to their work. I've had attorneys, mediators, theater people, and entrepreneurs as guests. What began as a hobby has opened the door for me to do a series of podcast interviews for a local publication, The Charlotte Ledger.
Today, more attorneys are using podcasts to promote themselves and attract new business; here's a look at what you need to know if you're considering starting a law firm podcast.
Before You Begin
If you're thinking about starting a podcast about the law, "first, stop and ask yourself, 'why — why are you doing it?'" says Robert Ingalls, owner of LawPods, a company that helps attorneys start and launch podcasts. (I hired Ingalls to help me launch my podcast.) "Lawyers with successful podcasts typically have two primary reasons — either to educate prospects or to educate referral sources."
So, if you're a personal injury attorney, your legal podcast might produce episodes around the questions that potential clients typically ask. Or if your purpose is to educate primary referral sources and you get business from insurance adjusters, you might focus on creating content insurance adjusters need to know. Either way, you want to know your purpose before you begin.
"Think about, 'why am I doing it? Who am I doing it for? What do they want to know? How am I turning that into money?'" says Ingalls.
"It's better to find a niche and fill it rather than be all things to all people," he continues. "If you're podcasting for business purposes, figure out who your audience is and who you're trying to appeal to. The narrower it can be, the better."
Other questions to consider include:
How long will each episode be? While 30 minutes is a good window to shoot for, every podcast is different. If it's relevant, you can have a longer leash — don't artificially shorten something that is important, says Ingalls.
Should you choose audio or video? Video presents another layer of technical challenges but is the wave of the future. "There is zero downside and all of the upside to having both," says Ingalls.
How often will you post? I podcast twice a month, as do 80 percent of Ingalls' clients.
What will the format of the podcast be? Will you host the podcast alone, have guests on, or do a mix of both?
Recording Your Podcast
To develop credibility for a podcast about the law, get the most credible lawyers and guests on that you can and make sure you prepare ahead of time. I typically have some broad subject areas in mind, and prepare some questions in advance, so that if someone stops talking unexpectedly, I can look down at my notes. I don't tell guests exactly what I'll ask, but I will ask if there's anything they want to talk about, and anything they don't want to talk about.
The format of your podcast is up to you, but I prefer a conversational style that isn't forced into a regular structure. Don't make the mistake of reading your podcast or asking a formulaic set of questions. it's better to make a few bullet points and approach the interview as a lightly structured conversation.
Keep the focus tight, and make your guests look good, and you'll make yourself look good. To me, the whole point is to be yourself, to share information that's interesting and relevant, and to create an environment where people get to know you without having to meet you.
Promoting Your Podcast
In addition to being on all the major podcast platforms, highlight your podcast on your law firm's website. Promote it on social media and to colleagues who may be interested. Use short audio or video clips on social media so people can listen or watch for a few seconds and click through to hear the rest. If you have guests on your podcast, ask your guests to promote it on their networks.
"Every episode is a goldmine of content," says Ingalls. "After using an online platform to record a high-quality episode, you can turn that into a full-length video and post it on YouTube and edit short clips to put on Instagram reels and LinkedIn posts."
Podcasting Necessities
While you can start your podcast with a minimal investment — you'll need a microphone and software to record it, editing software, and a hosting platform — there is a learning curve and some trial and error involved. Fortunately, there are great resources available, including:
Another Unexpected Benefit
When people think about the benefit of doing a podcast, they often think about the people who are going to listen to it, but to me one of the great benefits is the connection I have with the guest. You can invite someone one who you want to do business with or get to know better and give the person the opportunity to talk about himself or herself — which is most people's favorite thing to talk about. It can help create or solidify a relationship.
Finally, I have no illusions about how many listeners I'm going to get — most podcasts never attain a significant level of popularity. The goal is to reach the right audience, not necessarily a large audience. As an attorney, your podcast is a way for potential clients to get to know you. And in a business that's all about relationships, this can really set you apart.
About Steve Dunn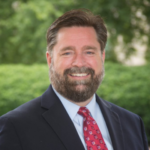 Steve Dunn has been a full-time mediator since 2019. Before devoting himself to dispute resolution full-time in 2019, Steve practiced employment law in Charlotte for over 20 years. His practice included FLSA, wage and hour, trade secrets, non-competes, and all forms of employment discrimination. Representing diverse clients from individual executives to Fortune 500 companies, Steve worked in industries including financial services, education, manufacturing, technology, construction, marketing, retail, and motorsports. Through his representation of cities, counties, and public colleges, Steve developed an appreciation of the unique needs of public sector clients, including the First Amendment, public records, and constitutional torts.